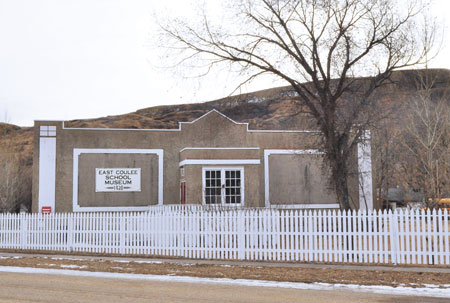 Beginning June 19, phase one of the East Coulee School Museum (ECSM) roof rebuild commenced.
The overhaul was greatly needed as the roof was leaking water into the building where hundreds of old artifacts are stored and displayed.
"It's going to save us money and help preserve not only the building itself but the artifacts and the heritage inside of it," said Pam Hodder, Heritage Interpreter at the museum.
"Coincidentally, it was needed for the new part of the roof, which I mean was the 1940's but it is just due to wear and tear due to it being over an 80 year old building."
Phase one of the overhaul includes the back portion of the roof. Once that part is completed, then Phase two will begin depending on funds.
"We don't have any plan to set that into place anytime soon – it's all about getting the funding," said Hodder.
The ECSM is working together with Cooper Roofing, the Alberta Culture and Tourism Historic Resource branch, and TAIGH Architecture for Phase One of the roof overhaul.
As for a small history lesson, the East Coulee School opened in 1930 as a four room schoolhouse.
Later on, an additional four rooms plus basement were added on. At its peak, the school serviced over 360 students daily before closing its doors to the public in 1971. East Coulee students began bussing to Drumheller for classes.
The building was boarded up for over a decade until the Dinosaur Valley Heritage Society began restoration work in 1982 in hopes of turning the old East Coulee School into a heritage site. In that restoration, the roof was partially redone.
"I mean they only had so much funding available in the 80's to do it so we're finally able to raise enough now," said Hodder.
Hodder is optimistic and pleased to have a new roof for the deteriorating building.
"When it rains, it pours down here in the valley and we really feel that impact in the back part of the roof – we have to normally set up buckets."
"It's going to save us a lot in the long run from water damage," said Hodder.