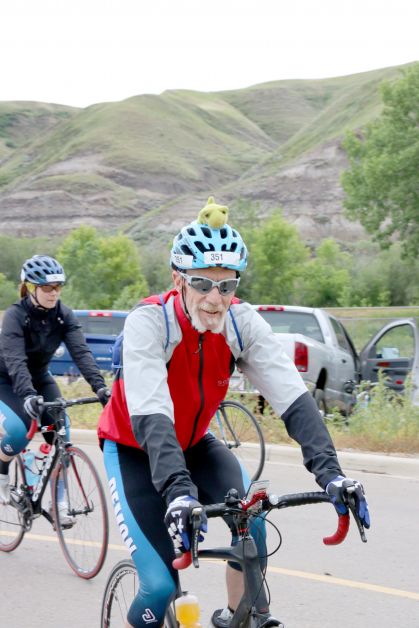 The Gran Fondo Badlands is back for its fourth season, and it is bringing along a special guest to the 2017 race.
Rick Skeith, organizer of the annual bike trek through the valley tells the Mail, that Canadian cycling legend Alex Stieda will be its honoured guest. Stieda is the first North American cyclist to lead the Tour de France, and in the 1986 race, he wore the yellow jersey for one day.
"He is a good ambassador for the cycling sport in Alberta. He does a lot of work with teens and youth in the Edmonton area," said Skeith.
Stieda will speak the night before at the annual dinner and he act as the official starter on race day.
Registration for the race on Saturday, June 24, which features a 50 kilometre (piccolo), 75, 100 and 140 kilometre (medio), and full 160 kilometre Fondo has been strong says Skeith, who expects about 650-700 riders on the course. This may be a down a little from previous years.
"Last year we were at about 800, so we are in the ball park," he said, adding the economy may play a role in the lowers numbers.
"Also a lot of people have done this ride three years in a row, so they might want to take a break. I am getting lots of new people coming in from out of province, a lot of people coming in from B.C. and Ontario, and the local people sign up at the last minute after they see the weather forecast."
Most the details for this season's race are much the same as last year. The will once again be holding the King and Queen of the Mountain combined hill climb challenges. There is great participation from local sponsors including McDonald's and Tim Hortons of Drumheller. A favourite aid station on the course is at the Last Chance Saloon where they will be serving up bacon sandwiches.
The Gran Fondo Badlands has once again teamed up the local Sea Cadets and with local youth who are taking on the Badlands to Banff Tour with Two-Wheel View.
"They will be out in full force to volunteer again. We appreciate it, and we provide donations to their cause," said Skeith.
There is always a need for volunteers on race day. To register to help out on race day go to www.granfondobadlands.ca.
Riders take to the course from the Badlands Community Facility at 8 a.m. for the Grand Fondo.