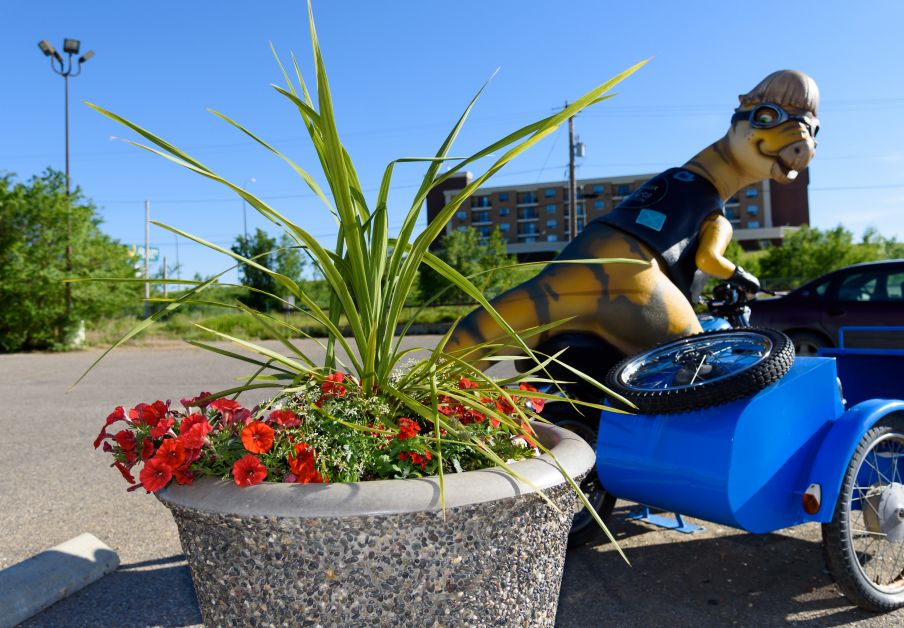 In order to create a beautiful and aesthetically pleasing Drumheller, D.A.R.T.S, the Town of Drumheller, The Drumheller and District Chamber of Commerce (DDCC), and local businesses and volunteers have banded together to achieve this goal.
Dave Carter, the main volunteer who rallied everyone together, noticed the planters in the downtown core and by the World's Largest Dinosaur were not being kept up so he asked to see if he could extend a hand.
"I talked to the Town and the Chamber ," said Carter. "They saw no reason we couldn't do it and then I approached D.A.R.T.S. as part of their annual flower fundraising program."
15 planters are currently available and as the program grows, more will turn up.
"So thats our future as we move forward – we want to slowly expand throughout the valley," said Carter.
Carter is thrilled with how the program is moving forward and adds great benefits to the community.
"I think it's a message to all in Drumheller. It shows that the community really cares and that we take pride in our community to make it look beautiful," said Carter.
The contribution to adopting one of the plants covers the cost of the flowers and the fertilizer for the entire summer. No participants need to take care of the plants making it 'the easiest gardening you'll ever do.'
If interested in getting involved, email Carter at prehistoricboy@telus.net or call 403-874-5361.
"If you want to be apart of it, you can be apart of it," said Carter.