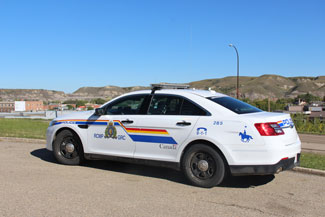 Beiseker, Alberta – Investigators from the RCMP's southern serious crimes branch are asking for public assistance to solve a bizarre incident that led to gunshots being fired during a car chase on rural roads North East of Airdrie.
On May 28 between 7:00 pm and 9:00 pm, two men in an older model white GMC pick- up truck became lost in the rural area near Beiseker and Acme. The men were chased from the location by three men in their 20's who were driving a red Chevrolet truck.
The men in the red truck chased the white truck through rural roads, attempting to force the white truck off the road several times by ramming the vehicle. Towards the end of the chase, the occupants of the red truck fired gunshots at the white truck, resulting in one of the occupants being shot and sustaining serious injuries. The red truck eventually stopped the chase as the vehicles approached Airdrie where the victims attended the Airdrie RCMP detachment to report what happened.
Investigators are looking for public assistance to locate the men responsible for this offence as well as the vehicle involved. The involved truck is described as a red 2007-2013 Chevrolet pick-up. There will be noticeable front end damage as a result of the ramming that took place during the chase.
RCMP also believe that two male witnesses may have seen a portion of the events in the area of Township Road 270 and Range Road 253. These men were in a blue Ford F-150 near the Tschetter Hutterite Colony East of Beiseker. Investigators are asking that these witnesses please come forward.
Anyone who may have seen this chain of events in the Acme/Beiseker/Irricana areas and anyone with information is asked to contact Constable Riley Dykslag from the RCMP General Investigation Section at 403-420-4966. If you want to remain anonymous, you can contact Crime Stoppers by phone at 1.800.222.8477 (TIPS), by the Internet at www.tipsubmit.com, or by SMS (check your local Crime Stoppers [www.crimestoppers.ab.ca] for instructions on how). You do not have to reveal your identity to Crime Stoppers, and if you provide information to Crime Stoppers that leads to an arrest(s), the recovery of stolen property, and/or a seizure of illicit drugs, you may be eligible for a cash reward.