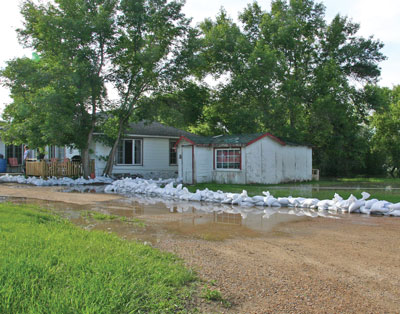 Mayor Terry Yemen and CAO Ray Romanetz sat down with the provincial Minister of Infrastructure and Communities, Brian Mason, seeking an endorsement of federal funding from the government for local flood mitigation projects.
The minister informed them the federal program did not meet the criteria for Drumheller's project.
His assistant shared the letter explaining the disapproval had not been mailed out yet as it needed a signature, causing the current meeting to become stagnant.
"Both Ray and I were kind of set back because we had not received that [letter]," said Yemen.
The Alberta Community Resilience Program is 90 per cent funded by the province for up to $3 million in spending with 70 per cent over $3 million. The remaining is to be made up by the municipality.
The Town was working with the federal government to support and cover the municipal government's portion. Mayor Yemen and CAO Romanetz went to Edmonton asking for an endorsement from the Provincial government.
Mason and Yemen bounced back and forth about the logistics behind the criteria as the federal minister had told Mayor Yemen on two separate occasions that their qualifications did reach the requirements.
The Federal Minister of Infrastructure had called Mayor Yemen the next day and apologized for leading them astray and causing problems.
"I brought to his attention that he should feel bad, since he is the administrator of it, and should know the criteria," said Mayor Yemen. "The minister should be able to tell us yes or no if it does qualify, which he agreed to."
Two grants were approved but fell short of the million dollar mark, so with the apology out of the way, the federal minister is finding other forms of funding within the next couple of weeks.
"We are at least on the hook for the ten per cent but we will see what happens," said Mayor Yemen.
"It's certainly disappointing but at the same time if ultimately we do find some funding, we'll take it," said Councillor Jay Garbutt.