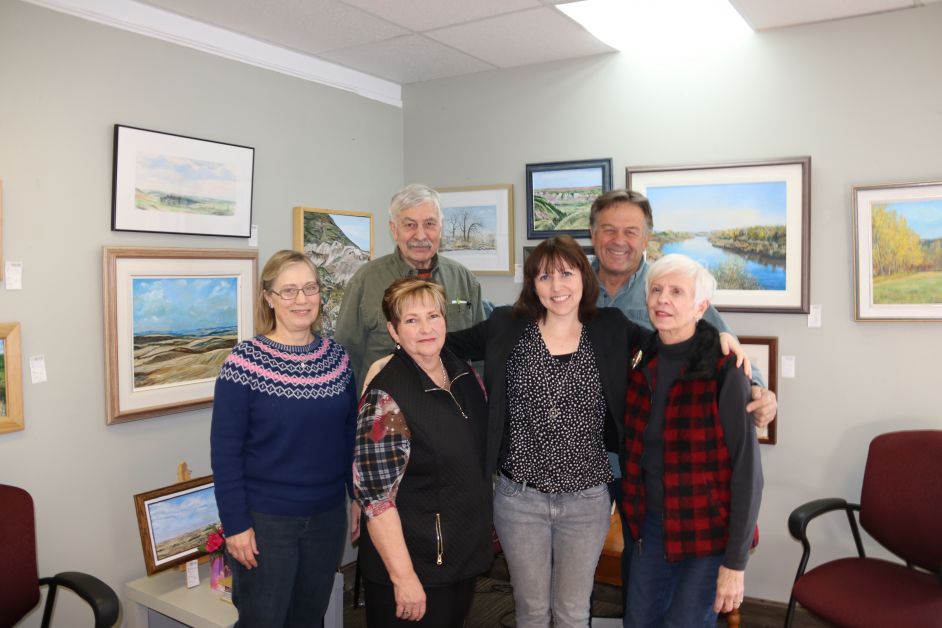 Members of the Badlands Artists Association will have their work seen by thousands throughout the province as it goes on tour next spring.
Xanthe Isbister, Alberta Travelling Exhibitions (TREX) manager/curator was at the Badlands Artist Association gallery on Friday afternoon, February 10 to select works by the local artists to be used in the travelling exhibition. She explains it has been some time since the artists have been part of TREX.
"Seven years ago the Badlands Artists Association had an exhibition with the Alberta Foundation for the Arts Travelling Exhibition Program, which is celebrating its 30th year," she explains.
She said the Badlands Artists Association reached out about a year and half ago about the possibility of doing another exhibition They met about a year ago and discussed rather than just coming in and selecting works off the wall, they should work towards a theme.
"What I do as curator, with my curatorial process with a group exhibition, I pose a theme to that group," she explains. "Seven years ago the name of the exhibition was "Out of the Badlands."
She said this time, rather than opting for the more common landscapes Badlands style work, they agreed to work more on the personal.
"Let's call the show "Into the Badlands." What they did over the year was create works in response to that theme," she said. "A challenging thing, because they all have their practices and what their interests and subject matter is, so it is challenging artists to go beyond that, and go out of their comfort zone to create work that is new to them, so they rose to the challenge."
In total, she selected 21 works from members including Jim Carlson, Bob Hamilton, Ellen Nobel, Carrie Mashon, Lindsey Stead, Janice Russell and Dianne Faulter.
"When there is a theme there is a tying thread that gives unity to the works, but at the same time it is not a solo exhibition," she said.
Mashon is vice president of the Badlands Artists Association and is excited to have their work in the exhibition.
"It is a big opportunity for us, up to 50,000 people could see this show," said Mashon.
The works will be on the road for two and half years and be displayed in non-traditional galleries in rural Alberta.
The mandate is to get contemporary Alberta made art into rural communities that wouldn't necessarily get the opportunity to see contemporary art shows," Isbister said.
The exhibition will begin to tour in September of 2017, and wrap up in February 2020. The exhibition will come home to Drumheller in March 2018 at the Western GM Gallery. There will be a reception.