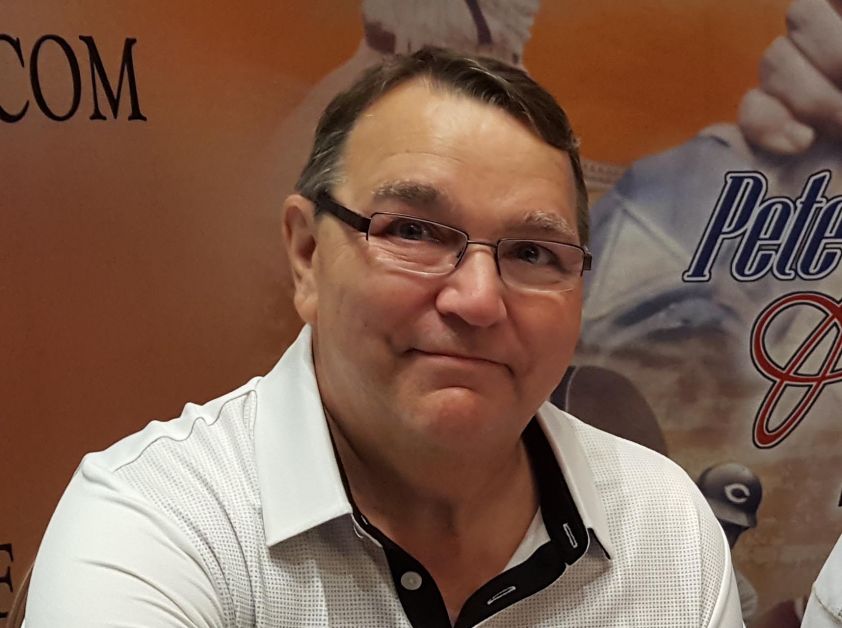 After almost 30 years, a name that has become synonymous with Starland County and steady guidance, Ross Rawlusyk, has decided to retire.
Rawlusyk has been at the helm of Starland County as CAO since the late 1980s and after nearly three decades, he laughs and says he is finally going to take a summer off.
"Tentatively I said the end of April, I would finish, but depending on the how the replacement process goes, I would work for a while after that if they need it," he said.
Rawlusyk grew up in the Hanna area, and studied Commerce and Geography at the University of Calgary. He then took a specialized community planning program at Mount Royal College. He worked in Calgary for about a year, when he was invited home to work at the just forming Palliser Regional Planning Commission.
"Sam Dookie, who was the mayor of Hanna was working with Bill Doyle. At the time, Drumheller's planning was with the Calgary region, as was Starland, and Special Areas was with Hanna, and all of their planning services were coming out of Edmonton. Neither were happy with the level of service they were getting, so they petitioned the province to form a new planning commission," Rawlusyk explains. "He knew I had taken planning and he phoned and asked me if I wanted a job."
"For sure I was the first employee at Palliser, I might have been the first warm body in the office!"
It was a good fit, especially because so many planners at the time were from larger centres, Rawlusyk knew rural. This was in 1978, and he worked there for about nine years, when he learned the CAO position was opening in Starland.
"The Reeve of the County was on the Palliser board, and he said 'you should apply,'" recalls Rawlusyk of the beginning of his new career.
Looking back, Rawlusyk guided the county through various councils and reeves, as well as provincial governments. When he started, Don Getty was premier, and then Ralph Klein in 1992.
"When Ralph came in, I think I had just figured out how all the budget stuff worked, and at the time, the County had almost no reserves at all. Ralph did the cuts, and the one I remember was the Municipal Assistance Grant, it went from $620,000 down to $6,000. That was a 20 per cent chunk out of our budget, and by the time we found out it was the end of March when they do their budget, so we were about one-third through the year. It was a tough year - we had to let people go."
There were also good years and many accomplishments. When he began at the county it was in charge of secondary highways, and he managed to work with his council to make great progress in paving, including the Verdant Valley Road.
"The councillors, myself and Stan Schumacher lobbied extensively until we finally got it redone," he said.
They were also able to improve Highway 839 from Highway 21 to Rumsey, and took on the realignment of 851 through Delia to the Hand Hills.
"We had to do cost sharing and use our own construction crew. It was always a trial to get these things done," he said.
With Rawlusyk, the County also made great improvements to recreation facilities. They built Michichi Dam, the McLaren Dam and expanded and rebuilt Starland Recreational Area.
Like most communities, water was always a concern.
"I spent the best 10 years of my life building regional water. We have gone from no water in places like Delia, to nearly 400 kilometers of water pipelines right now… that took a while," he said.
Under his leadership, the County took a lead on Solar and alternative energy. It outfitted its offices with solar power, as well as many of its water pump stations. It also helped local farmers install on-farm solar. For its efforts, the County was presented with the Municipal Award of Excellence for Innovation.
He credits having strong councils for the County's successes.
Looking forward beyond a summer off, Rawlusyk, who has been candid about his bout with prostate cancer, wants to give back.
He is planning to do a six-month volunteer stint with Cross Cancer Institute in Edmonton, where he was treated. He is looking at helping with new patient orientation.
He also knows with his daughter's wedding coming up, and impending home renovations, he won't be sitting idle.
"I thought I would get the first year lined out," he chuckles.