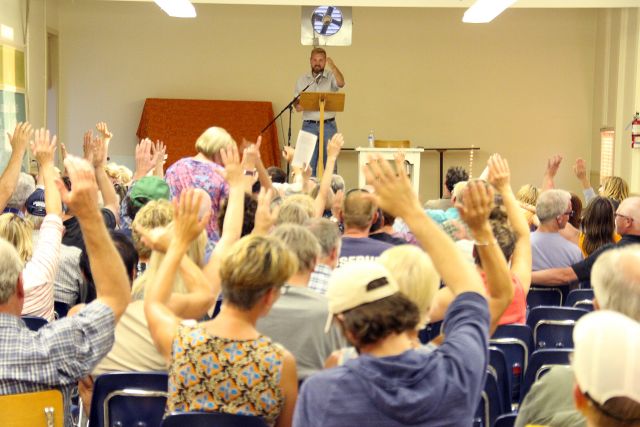 Over 100 people filled the Rosebud Memorial Hall Monday night for a town hall discussion with Strathmore-Brooks MLA Derek Fildebrandt, who offered his limited support in efforts to quash the Badlands Motorsports Resort project currently in development near Rosebud.
Fildebrandt fielded questions and heard positions unanimously in opposition to the motorsports resort, after members of the opposition to the development, Save the Rosebud, invited the MLA to canoe the Rosebud river near the proposed site on Monday before engaging in a town hall discussion with the community.
Fildebrandt, an opposition MLA of the Wildrose party, only represents Wheatland County constituents, who are outside of the jurisdiction of Kneehill County, where the Badlands Motorsports Resort (BMSR) is located.
"Obviously, the process of democratic accountability here has broken down largely due to the very peculiar geographic location of the racetrack," said Fildebrandt. The racetrack is located in Kneehill County, but the landowners and residents who would be most affected by the BMSR reside in Wheatland County, of which Rosebud belongs. A show of hands at the meeting showed less than three quarters of those in attendance were residents of Kneehill County.
"This is first and foremost a municipal issue... the strongest commitment I can make here is to advocate. I'm going to sit down face-to-face with the environment minister and make it very clear that I'm sure where my constituents sit on this issue," said Fildebrandt, who also promised to speak to Kneehill County council about the issue.
Kneehill County council was called into question by a number of speakers for approving BMSR's Area Structure Plan and passing a land use rezoning bylaw at the BMSR site which allows development in an area which was previously identified by the county as an environmentally significant area.
"I don't personally have an opinion on Kneehill council – it's not my jurisdiction and I'm not their boss… it's voters who hold politicians accountable, not other politicians. The folks here from Kneehill, you have a particular ability to apply pressure than those from Wheatland do. I urge you to hold your politicians accountable," said Fildebrandt.
A group of adjacent landowners to the project reintroduced a plan to purchase the land from the developers at a price they believe will adequately compensate Badlands Recreational Development Corp., in order to create an environmental easement area which would ensure the conservation of the area that is considered by the group to be ecologically and environmentally significant.
"Three years ago we offered to purchase the land, and we will offer again," said Wendy Clark, one of the meeting's organizers and a leader in the Save the Rosebud group. "We feel with the capital gain the proponent earns on the purchase, that they will be compensated, and they will be able to move to another location and realize their dream."
"We have a group of people who are committed to this, a group who is horrified by what can happen in our community, who have a vision to protect this valley, to protect our environment, and who are just a little bit jaded about depending on government and their representatives to do it for us. We're willing to lead ourselves where the government won't," said Richard Clark.
A revised and updated website, www.savetherosebud.ca, was also announced at the meeting, and includes numerous resources such as detailed documents, government contacts and a letter generator, and a blog on the trajectory of the development.
The Badlands Motorsports Resort is a planned motorsports track and condominium development located on 525 acres of land about 5 kilometres east of Rosebud. The project cost is estimated by developers at $400-million, and reportedly is currently the largest proposed development in Alberta.
An application for subdivision was submitted to the county earlier this year, but was stalled due to Kneehill County requiring an additional engineering document, which Badlands Recreational Development Corp. said was prepared last week and is ready for submission.
The project has been in development since 2006 after facing numerous road blocks and litigation with Wheatland County which stalled development but have since been resolved.