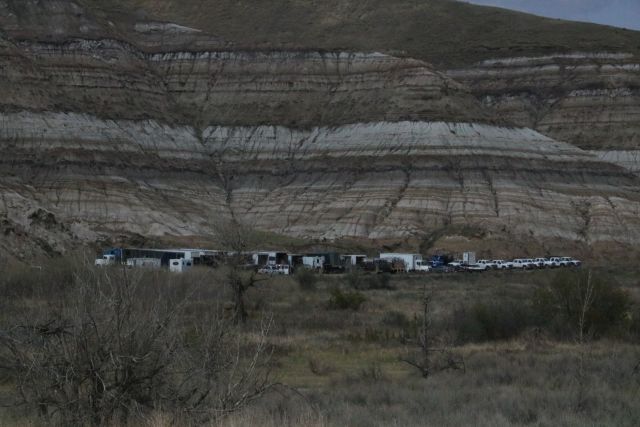 The valley continues to shine as a backdrop to full scale motion picture productions , and this continues this spring with the "The Solutrean."
Crews for the ice age epic adventure spent the last half of this week filming in the valley. The east part of Drumheller was a hive of activity with filming near the hoodoos.
Drumheller not only shines for its unique landscape.
"We very much appreciated the opportunity to film in the landscapes around Drumheller and would like to thank the town for its hospitality," producers told The Mail via e-mail.
The film is set at the end of the last Ice age and the title refers to the Upper Paleolithic period of early advanced humans in Europe, where the film is set.
Albert Hughes is the director of the project. He hatched the original concept and developed the story of over a number of years. He brought Daniele Sebastian Wiedenhaupt on board to write the spec. screenplay.
The film features Kodi Smit-McPhee, who played in "X-Men: Apocalypse," Jóhannes Haukur Johannesson whose credits include "Game of Thrones" and Jens Hultén.
Hughes is producing along with Andrew Rona. They previously worked together during Rona's tenure as President of Silver Pictures, where Hughes directed "Book of Eli." The production is planning to take full advantage of the IMAX-3D format when the film is released.
"The Solutrean" is Studio 8's first film to go into production. Studio 8 is a filmmaker driven company focused on building longstanding relationships with filmmakers.