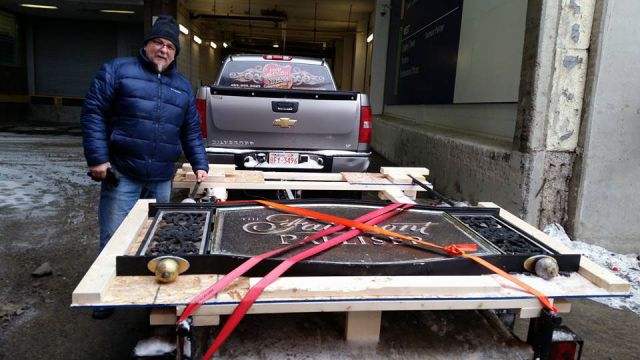 Fred Makowecki has been handed a piece of Alberta history, to mold, restore and be a part of.
Handed might not be the best description, as the sign on the Fairmont Palliser in downtown Calgary measures more than seven feet and weighs hundreds of pounds. In fact, they have to retrofit a trailer to transport it. Nonetheless, it is destined to Image Crafter Signs, the humble sign shop in Drumheller to restore.
"I think it is just cool for us to do it because there is nothing I love more than a little bit of history," he said.
The job came together simply through the shop's reputation.
"They phoned and said they asked around as to who would be up to the task and has the ability, and our name was forwarded," said Makowecki. "For me, this is year 42 of doing this and to have someone come and find you and say 'we hear you are good, so we would like you to take this on' is remarkable."
The Fairmont Palliser, built in 1914, is one of Canada's famed Canadian Pacific Railway hotels. These were flagship luxury properties across Canada, along the rail lines. They included the Banff Springs Hotel, the Château Frontenac and Chateau Lake Louise.
P. Lyall and Sons Construction Company built the hotel for $1.5 million. The original eight-story building had three more stories added in 1929 and was the tallest building in Calgary until 1958. CP Hotels sold the property to the Fairmont hotel chain in 1999.
The building has an unmistakable entrance where the sign hangs. This entrance has been host to royalty and dignitaries. In 1960, during the Stampede, famed trick roper Montie Montana rode his horse through the lobby of the Fairmont.
Makowecki has been pouring over photos to see when the sign was fist erected on the building.
He knows there is lots of work to be done on the sign. It will have to be completely disassembled to assess the overall condition of it.
"It is really old, full of brass plating and cast iron. I am sure it has to be 75 or 80 years old, but we won't know more until we get in to it. We have to take the panel off the front to find out what they covered up," he said. "There might be brass letters under the plate for CP Hotel but we won't know until we take it apart."
Parts will have to be cast, played and powder coated and consideration of materials will have to be made to make sure they do not react, and will stand up to the conditions.
"There are a lot of different materials and a lot of cathodic reactions between bronze and steels. This indicates that some of the structural material might be corroded, we have to get into the sign and look at that."
He estimates it will be a few months to complete the job, with considerations for coordination with other trades contributing.