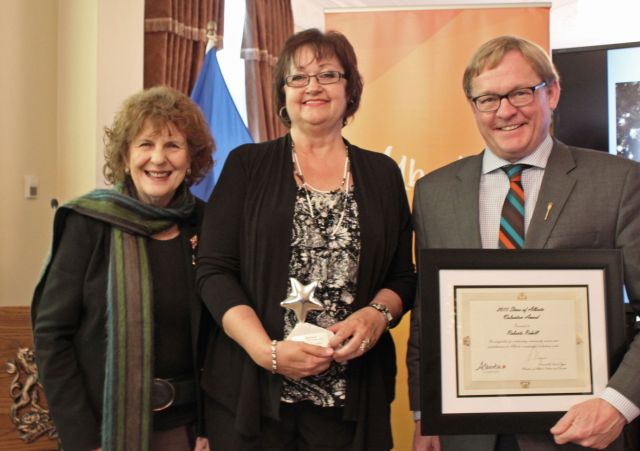 Hanna's Roberta Rehill is shining bright, honoured as one of Alberta's 2015 Stars of Alberta.
She is one of six to be honoured with the volunteer award by Minister of Culture and Tourism.
"I am proud to join all Albertans in saluting our Stars of Alberta Volunteer Award recipients and the tens of thousands of volunteers who make up the heart and soul of our communities. As we enter the holiday season, I encourage all Albertans to get out and honour our award recipients by doing volunteer work in their own neighbourhoods," said Eggen.
Rehill was nominated by Gwendolyn Snell of the Town of Hanna's FCSS. Her volunteerism has spanned three decades.
She has given thousands of hours to her community. This includes numerous events, activities, programs, committees and boards.
According to a release, her true passion has always been to provide positive, meaningful activities for youth through Hanna and District Youth Club, where she has been taking an active leadership role since 1989. Mrs. Rehill believes youth are our future and are worth investing time and energy into. She creates opportunities for them to discover themselves and their strengths so they can move closer to achieving their goals.
Some groups she has supported through volunteerism includes Hanna Front Row Centre Arts Council, Hanna Dance Association, Hanna Performing Arts Association, Hanna Indoor Pro Rodeo Association, Hanna and District Agricultural Society and Garden Plain Community Club.
Her signature event is the Hanna Teen Fair.
The Stars of Alberta Volunteer Awards are presented annually to mark International Volunteer Day. Since inception in 2000, 103 Albertans have received this award.