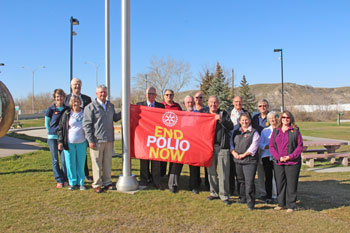 In honour of World Polio Day, the Rotary Club of Drumheller was proud to raise the 'End Polio Now' flag at Rotary Park on Monday. This was part of Rotary's 30 year mission to eradicate the crippling childhood disease.
Joining Rotary Club of Drumheller members to raise the 'End Polio Now' flag were; Deputy Mayor, Tom Zariski; Rotary District 5360 Governor Martin Harvey and local Rotary Club president Doug Stanford.
It has been 30 years since Rotary launched its PolioPlus program to take on the ambitious goal to end polio worldwide. In 1985 polio crippled more than 350,000 children per year in 125 countries – 1,000 cases per day.
Today, the world is 99.9% polio free with only Pakistan, Afghanistan, and Nigeria remaining as polio-endemic. In 2014 there were only 360 polio cases in the world.
A highly infectious disease, polio causes paralysis and is sometimes fatal. As there is no cure, the best protection is prevention. For as little as US 60 cents worth of vaccine, a child can be protected against this crippling disease for life.
After an international investment of more than $9 billion (US), and the successful engagement of over 200 countries and 20 million volunteers, polio could be the first human disease of the 21st century to be eradicated.
Since 1985, Rotary has contributed nearly $1.3 billion and countless volunteer hours to the protection of more than 2.5 billion children in 122 countries.
Every dollar Rotary commits to polio eradication is matched 2:1 by the Bill and Melinda Gates Foundation up to $35 million a year until 2018. These funds help to provide much needed operational support, medical personnel, laboratory equipment, and educational materials for health workers and parents.
Help make history today by donating to the 'End Polio Now' campaign at www.endpolio.org/donate.