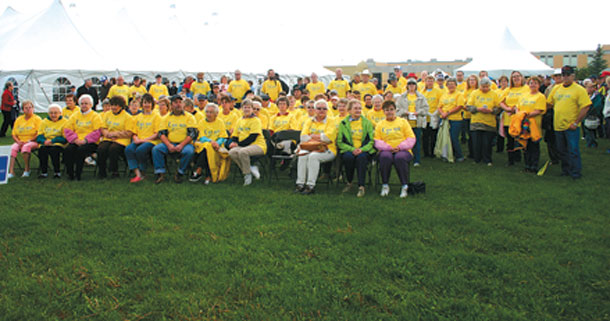 It is obvious once again that Relay For Life is contagious as the totals for this year's event hits a quarter of a million dollars.
After a wildly successful inaugural Relay For Life in Drumheller last year, organizers were modest in their goals and projections. They were astounded to find this year they raised $250,000 and counting.
"I thought if we raised between $150,000 and $200,000 that would be spectacular," said event chair Merridy Martin "When you consider $250,000 with 400 participants compared to $430,000 with almost 1,000 participants (last year's numbers), I think we did pretty darn good."
"We just want to thank everyone, not just Drumheller, but surrounding areas. It was truly a community effort."
It was deja vu with the weather as the clouds opened up late in the afternoon on Friday, June 13. By the opening ceremonies the sun was peaking out, and by the Survivors Victory Lap the sun was shining. An early morning shower helped to settle the dust somewhat.
Despite the threatening weather about 130 survivors came out for the victory lap, comparable to last year, and the spirit was just as strong.
Rob Stanger was one of the survivors taking part in this year's Relay. The 26 year old has been in remission for six years after being diagnosed with and treated for Stage 4 Hodgkin's disease. He participated in last year's Relay, and was invited back and asked to help lead the lap.
"It is important to recognize that a lot of different people get the disease, and at different ages, and it is good to see there was a lot of positive attitude and hope brought to people that do have it," said Stanger. "It can be gloomy at the time, but if you keep a positive attitude, you can get through it."
"All those people, (in the victory lap) are a testament to it." After the victory lap, the teams trooped onto the track on a mission to help eradicate cancer. Performer after performer made it to the stage to keep spirits of the 39 teams participating strong, and all kinds of games and activities to keep young and old entertained.
"The entertainment was awesome. The talent that is in this area is just beyond none," said Martin. She adds the Heartwood Manor's foot massages were a big hit.
Not far from anyone's mind was the Drumheller Relay for Life founder Tanya Howard. Her dream was to bring Relay to Drumheller and she fulfilled it last year with one of the most successful events in the province. On May 15 of this year her battle with cancer ended.
"The person whose dream it was to bring this to life is not here, but she is with us in spirit," said Martin. "She was with us all night."
Martin told The Mail, at 5 a.m. on Friday morning the sprinklers turned on at DCHS field inside the tents that were already set up. The survivors' tent and the participants' tent were drenched.
"We figured Tanya got the last laugh there," she said. "Her eyes would have just been flashing. But right at the opening ceremonies the sun shined through."
Already eyes are on next year's event. Because of the construction at DCHS the organizers have secured the Drumheller and District Ag Society grounds for the event.