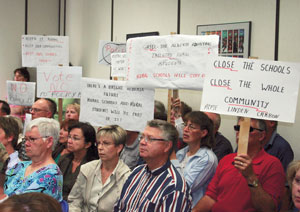 Golden Hills amends East Wheatland plan, reworks closure policy
It was a victory for rural school children in Golden Hills School Division, as their fate was put in the hands of their nine trustees at the Golden Hills trustees regular meeting on Monday, June 16.
A compromise for a proposed stand alone centralized school in East Wheatland was established. As well, a proposed policy making it easier for schools to be put under review for closure was sent back to the policy committee for re-development. The original proposals were critiqued by the possibly affected rural communities as potential cost cutting measures would only hurt their children.
"We are already getting great academic and athletic programs. If these policies are put through they only threaten our children and our town," said Rockyford resident Shelly Neal.
Most trustees agreed that addressing the needs of the rural children was more important then simply cutting costs.
"We are not supposed to be running a business, we're supposed to be running schools," said Trustee and Carbon Mayor Shirley Buyer.
The East Wheatland District currently has four different school; Hussar, Standard, Cluny-Gleichen, and Rockyford. The proposal to create a centralized school in this district was originally suggested as a Kindergarten to Grade 12 school.
This left many residents concerned about the driving times for their younger children.
"We cannot have our young elementary school kids driving hours a day on a bus," said Neal.
The proposal was amended to create a centralized school for Grades 7-12 instead. The amendment was not achieved without debate.
"Will this create a big enough school for the government to grant our request?" asked Strathmore trustee Judy Bazant.
The projected attendance for the Grade 7-12 school would be just over 200 students which in the eyes of Trochu Trustee Barry Kletke, should be enough.
"We have new schools coming in at an enrollment of 187 and 175, so I think, unless I am missing something, we're looking for an excuse there," said Kletke.
The compromise was eventually accepted, and if approved by the government, should allow for younger children to stay close to home, while giving the older students access to higher level sports teams, and more diversified expert teaching. This is a directive that chairman Karen Harries, has been searching for.
"The Hussar school has only one teacher for the high school. That puts a lot of stress on that teacher to do all the programming," said Harries.
If the new school is built, it will decrease the population of the current schools in the district, which may leave their sustainability in question.
Policy 15 was the original proposal for school closures, and suggested increasing the needed enrollment to not be considered for closure. This policy would have put a lot more schools under review for closure. Harries tried to assure the rural communities this did not mean any schools were closing, but did little to suppress their distaste with the proposal.
"If you're not planning on closing any schools, then why even create the proposal?" asked Neal.
The proposal would be amended after great insight by deputy superintendant Ed Holt.
Holt stated that if giving students a higher quality education is the priority then, "reviewing schools based on course shortfalls," may be the better way to go.
A motion was then put forth to send the policy back to the policy committee for re-development which would likely include some of Holt's ideas.
Another hot topic at the meeting was the growth trends of the rural towns.
Harries cited that many rural schools are losing students, while Trustee Trent Sundgaard said many towns like Carbon and Acme are on the rise and there is growth potential in all the small communities.
"The Alberta government projects a 14 per cent increase in children aged 0-17 in both urban and rural communities, when this happens we need to make sure we have schools available," said Sundgaard.
However, Trustee Lawrence Maerz said the report was mostly pointing to urban communities, and does not see that kind of growth potential in the rural communities.
"Our families in our rural communities as far as I have seen, are not having kids," said Maerz.
The large crowd of rural supporters in attendance could not help but giggle at the comment, with one member of the crowd shouting, "I guess you haven't been to Rockyford!"
Maerz would later shoot back at the crowd stating, "I find this racket behind me very annoying, to the point where I can't even hear myself think, so either you folks shh!! Or this forum might as well go home."
Despite this victory, Neal stated, "the fight for schools in rural communities is undoubtedly not over."
"The more we come together as one voice the stronger we will be," said Neal.