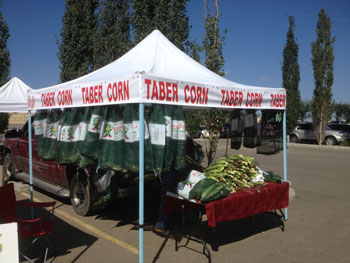 One of the joys of summertime in Alberta is biting into a big juicy cob of Taber corn.
But with imposters out there, how do you know you are getting the real deal?
With a hot July, the corn signs are already popping up in the area. While moist fresh corn on the cob can be yummy, it takes a certain kind to satisfy the discerning palette.
"The key is look for the certificate," said Dave Jensen of Jensen's Taber Corn.
He explains that a few years ago there were a few kiosks out there selling corn using the famous Taber name, when the corn was grown elsewhere. To curb this, growers got together and produced a certificate that prove the origin of the corn.
He says the problem hasn't completely gone away and at times it has eroded consumer confidence.
"Last year we were there and Drumheller people were very skeptical about buying corn from us because they had other people there, brokers who had sold bad corn," said Jensen. "We were giving corn out on the street saying, 'this is from the farm.' Towards the end of the year it turned out."
Jensen has also found a way to make sure consumers are getting right goods. They operate many of their own sale stands throughout the province.
"We don't sell it to someone, else, it goes directly from the farm to the consumer and they will have the certificate," he said. "If you see our certificate and it's from our kiosk at Canadian Tire, it's legitimate."
When asked what gives Taber corn the reputation of being a top quality product, his answer is simple.
"Soil type, heat units and irrigation."
He adds getting the corn to the consumer is just as important.
"Another thing that is very important to quality is how you look after it after it leaves the farm, that's the key. You can take perfectly good corn and wreck it if you don't look after it," he said.