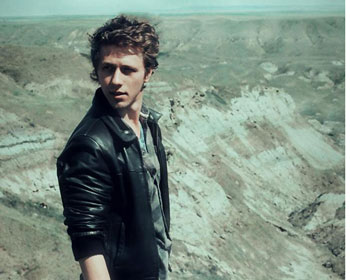 A young Alberta filmmaker will be making his way to the valley this fall to continue to share his stories.
Benjamin Ross Hayden is planning to shoot his debut science fiction film in the Drumheller area. He is a finalist in the Telefilm Micro Budget Program to support his project called The Edict.
"The Edict is a Canadian science fiction adventure about life in the far future, between nomadic outsiders roaming the land searching for home. The hunter for the tribe is an outsider who is sent by a matriarch to find a home for his people," Hayden tells the Mail. "On their journey across the wilderness in the future they discover the ancient human will to survive."
Hayden has always been a science fiction buff.
"As I grow and mature as a Canadian film director, I start to become aware that my surrounding start to inform me and how I look at the future perspective as a Canadian. Of course in the far future there is going to be tons of land and nature. The prehistoric landscape is the perfect place to have a sci-fi."
"The bentonite valley really works for an image of the world where it is dry in the future. I am taking inspiration from the landscape when I look at the design of the film."
"Pairing Drumheller with Writing on Stone to create a dry geological landscape with seamless transitions is how we will really be able to make a backdrop of this place have some punch and vibrancy."
While this is Hayden's first feature length project, he is becoming well known in the field. He has founded his production company called Manifold Pictures and his short film Agophobia won a Rosie Award for best visual effects. His film appeared at the Cannes Film Festival, where he met Adam Beach.
With his latest project, it is to be 100 per cent Canadian, and he has a development partnership with the Adam Beach Film Institute.
He said Alberta is a fruitful place to work.
"At this stage, it is an outstanding time to be creating Canadian science fiction and films that are 100 per cent Canadian. Right now a lot of the film industry is poised at the perfect point where the crews are well seasoned enough and have shot a good number of feature films, and are maintaining a good relationship with one and other. It is no surprise that many people are one or two degrees away from who they are working with at all times," said Hayden. "I find that the retention of the industry has only gotten better in the last five or 10 years.
The Micro Budget Production supports new Canadian talent, supporting the production and promotions of their first feature length film. It is for projects with a budget up to $250,000, and productions can receive up to $120,000 in financing through the program.
The Valley Below, shot in Drumheller by Kyle Thomas was a recipient of this program.
The Edict will be in Drumheller this October, and will be shooting throughout the province for about four weeks.
Hayden says there are very good prospects for the film at festivals and beyond.
"This production is already looking promising for the festival circuit as well as broadcasting opportunities because of the talent that is being attached to this," he said. "We are in talks with broadcasters and distributors, which makes the scope of this project immediately validated."