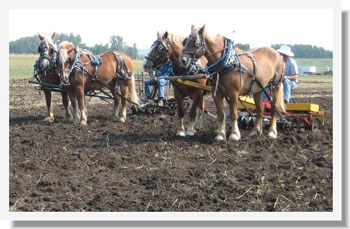 The past comes to life at Pioneer Acres 46th Annual Show, Friday, August 7 to Sunday August 9, featuring Massey Harris tractors and equipment past to present.
Atendees will be able to see horse drawn plowing, cultivating and binder work in the north field demonstrations. Come and learn how pioneers prevailed without refrigeration at the Granlea Beef Ring. And experience steam powered plowing and threshing demonstrations.
There are horse power demonstrations and ice cream making by Alberta Carriage on Saturday and Sunday afternoon. Visit the blacksmith shop or take a horse drawn wagon ride. There are classic tractor pulls featuring various sizes and weights of antique tractors.
You are invited to watch the various parades beginning at 12:30 daily. The Feature Parade, with everything Massey Harris, past to present and a Car & Truck Parade as well as a Parade of Power.
There is something for everyone. Enjoy a tour of a restored pioneer home, and a one-room school sure to revive memories for those who attended such a school back in the day. Visit Pioneer World for the buns and bake table, exhibits and crafts. Be sure to check out the vendors at the indoor Trade Fair booths. If it sounds like a lot of walking, the People Movers will take you places…anywhere on the grounds.
There is live entertainment on the Stampede Stage daily. There will be a children's show, Worms and Dirt with Mary Lambert Saturday afternoon at 2 p.m. We have a great line-up of entertainment on stage in the evening beginning at 7 p.m. including a barbershop quartet, fiddlers, bluegrass and back by popular request is a variety dance band, My Dog Sam. So come and kick up your heels on the new outdoor dance floor.
There is lots of FREE Parking. All the entertainment, demonstrations and displays are included in your gate admission. Dry Camping is $20 for the weekend.
Concessions available on the grounds daily or enjoy the BBQ steak supper Friday and Saturday. There is a Pancake Breakfast every morning until 10 a.m. at the main concession next to Pioneer World.
Pioneer Acres is located at the north side of Irricana just west of Highway 9 on Township Road 274.
For more information contact Diana Rowe at 403 821-3954