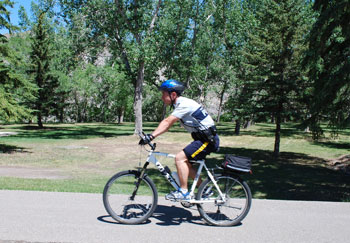 The RCMP will be patrolling Drumheller in style this summer.
Officers will be riding bicycles keeping residents safe, especially in areas cars aren't able to get to.
"It is not just going to be daytime patrols near the splash park and bike paths. There is going to be an increased patrol at night after dark and it is going to be in back alleys, bike paths, and areas that are not easily accessible by a police car," RCMP acting detachment commander Cpl Kevin Charles said.
"The bikes are quite effective. They are quick, quiet, and they can get to areas that we normally can't get on foot or in a car. Our goal is not only crime prevention but to catch some people that might be doing these offences whether it be break and enters, drinking or drugs, or prowling on residences after dark, things of that nature," Charles said.
The officers have already begun their bicycle patrols, he said, and hope this will help decrease crime during the summer months.