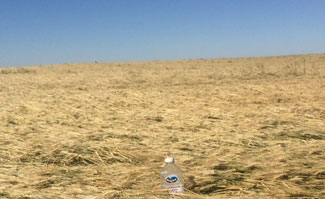 A juice jug, sitting on top of wheat in a field west of Michichi shows just how badly crops were flattened after the recent early September snowfall. Normally the wheat stands up to three feet high. Photos Starland County.
Extreme weather throughout Central Alberta over the summer has taken its toll on the area's crops.
Dalum farmer Jim Eskeland's farm was hit with two hail storms, four to six inches of rain toward the end of August, eight inches of snow September 8, and frost September 10 and 11, damaging any crops that weren't ready.
Eskeland said the concern is the quality of the crops. Traditional hot and dry August weather means crops wilt properly for harvest, dry off, but with all the moisture, "Who knows what grade we're going to have out there with wheat now."
Eskeland farms wheat, canola, barley, peas, and he tried soybeans this year. The only crop he'd completely got into the bins was peas, and he's not sure what will happen with the soybeans. Late season rains means instead of drying off like they would in the usual hot, dry weather, the malt barley starts to sprout again and is unacceptable for maltsters, so the barley would be downgraded from milling quality to feed.
A lower grade brings lower prices, dropping it from one of the most profitable crops for farmers to one of the least profitable.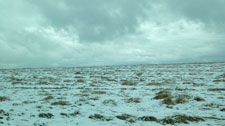 Early September snowfall flattend this oat field near Rumsey.
Eskeland said some nice weather over the next couple of weeks means farmers could get their crops up okay. "It's still early. Let's hope Mother Nature hasn't got a bigger surprise in store for us for winter." Eskeland has been farming in the Dalum area for 25 years. and has noticed the last two years, whatever the weather is, it seems to be intense - to the extremes. He said last week's forecast called for a 60 per cent chance of flurries - and his farm got eight inches of heavy, wet snow. "And as farmers, I think we're optimists. We have to go with it and figure out how to make the best of a bad situation, and hope for next year." Eskeland estimates he got hail damage on about half his farm's acres, with a small percentage of those being completely wiped out and about 40 per cent receiving small damage. He said some farmers crops got wiped out 100 per cent.
Russell Muenchrath, Wheatland County Agriculture Fieldman, has been with Wheatland 25 years, and can't recall a snow like this, and this early on. He said the snowfall will affect the majority of farmers in Wheatland County because they weren't into harvest full swing. "Basically what the snow did, it's going to delay harvest again. Any crops standing, it's laid a lot of them down, and it's going to make harvest quite difficult in some instances. And then it's going to affect quality, like the grades on some of the grain are going to be diminished. "
He said that further west had more snow than areas to the east in the County, and notes that its been a bad year for a lot of farmers.
"A lot of guys are still feeling the effects of the hail, and then to have the snow is one more thing we didn't' need," noting hail wiped out some crops 100 per cent. "In some areas south of Rockyford, Standard through Hussar, there was one day there were three hail storms. It's been bad."
The situation in Starland County was also desperate in some areas.
"The snow was particularly bad between Morrin and Drumheller, probably Highway 9 South, it was pretty bad, it flattened the crop right out," said Alan Hampton, Agricultural Fieldman with Starland County.
Hampton said the snow fell in varying degrees, with some crops that were flattened and some that are still standing. In the north end around Rumsey, Hampton said there was six or so inches of snow, around Munson around 4 inches of snow, and the rest of the county three to four inches of snow.
He said Starland County experienced a number of hail storms "Right around Drum was fairly wicked about the 19th of July, then there was another one - if it didn't finish off the crop the first time it got it the second time."
He notes there 's been quite a bit of hail in Starland this season, but adds it has been a few years without an early snow.