A rare find at an auction netted a man a piece of local history he is hoping to learn more about it.
Larry Coney is an avid collector of military memorabilia and he attended the estate auction of Nick Simigan on Saturday, June 14, hoping to find a treasure or two. He did find a rare sword and some other interesting pieces.
While looking at some old banners, he thought he may have found something unique, he unfurled one enough to expose that it was hand-painted and that it had an image of a bulldog. Immediately, he thought it might be related to Sir Winston Churchill. That was enough to get him bidding. He won, and like most who attend auctions, he felt he paid a little too much.
When he finally had a chance to take a good look at the item, he found it wasn't military, it was marked "Tobermore LOL 2344 Drumheller."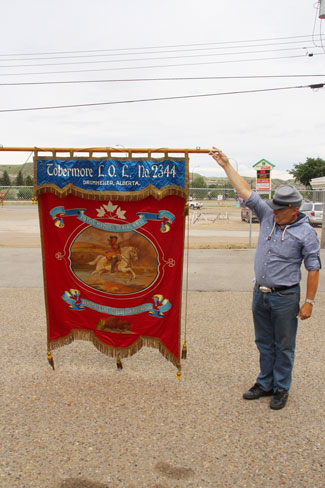 Larry Coney displays a banner he purchased at a local auction and he would like to learn more about the Orangemen's presence in the valley.

In this case LOL didn't mean 'laugh out loud,' it means Loyal Orange Lodge. A little more research found that it was an Orangeman Lodge in Drumheller.
The flag's images were hand-painted and marked as completed by "Dominion Regalia" of Toronto. The banner had strong nationalistic images and language. One side depicts King William III on horseback charging with a sword drawn. Above it reads "To the memory of King WM, III".
On the other side, there is an image of a bulldog standing on a Union Jack, and across the top it reads "A United Empire" and below it says "What we have, we'll hold". In each of the four corners there is a short slogan, they are "One Flag," "One School," "One Language," and "The English."
The Orangemen have a history dating back to 1795 and is a Protestant fraternal organization. It was William III, or William of Orange, who defeated King James II, who was Catholic.
In Canada the Orange Order has been around since 1812, and was a strong force in early Canadian Politics. The Orange fought alongside Canadian forces against Fenians (Irish Republics) leading up to confederation.
There is not much known about the Orange Order in Drumheller. There is no mention of the fraternal order in the Hills of Home, or other conventional references.
One website, dedicated to Orange Order history, notes there are more than 100 lodges in Alberta, including one in Michichi and one in Rosedale, The Drumheller chapter had 22 listed members in 1912, 33 in 1915 and 30 in 1919.
Coney contacted Ian Smythe, historian for Provincial Grand Orange Lodge of Western Canada, to see if he could learn more about the banner, and he is waiting for a response. He is not sure what he will be doing with the banner, and is leaning towards donating it.
He would like to hear more from readers to hear if they have any information about the banner of the Orange Order in Drumheller.
If you know more feel free to contact information@drumhellermail.com.