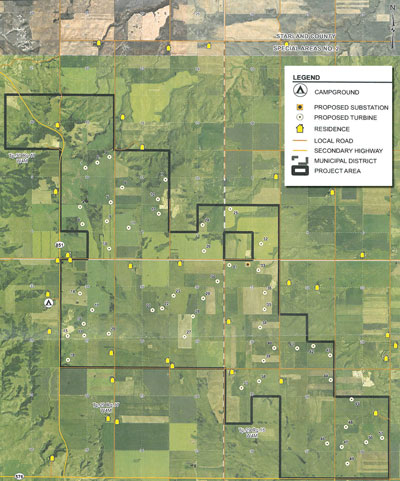 One of the biggest proposed construction projects near Delia is sitting in limbo.
The proposed Handhills wind turbine project is currently awaiting decision from the Alberta Utilities Commission (AUC) on their proposed 80 Megawatt, 54 turbine construction south of Delia.
"The application was received last December, but we're still waiting for information responses, so in our view, the application is incomplete," said Jim Law, external relations with AUC.
Despite the wait, Suncor is still committed to the project and hopes to have the Handhills littered with wind turbines in 2015.
"We are working with them whenever they have information requests. We don't have a timeline on how long that would take," said Nicole Fischer, media relations with Suncor. "(2015) is the goal, but timelines are dependent on a number of things. Right now, our commitment is working through the application process with the AUC."
In August last year, Suncor held an open house in Delia to get feedback on the project from area stakeholders.
Some hope the turbines will help revitalize Delia, while others raised concerns about bird depopulation, noise and visual pollution, and decreasing property values.
Once the Suncor application to the AUC is complete, the public will be asked once again to give their feedback on the project.
"All of the feedback from the open houses would've gone to the AUC and they can use that to contact people for more information. The public's questions and our responses are taken into account during the application," said Fischer.
The AUC will initially schedule information sessions to inform stakeholders how they can get involved and submit their opinion.
"When we have a complete application, we issue a public notice to inform residents and at that point we would likely conduct an information session to explain how the review process works and how they can become involved in making sure their views were known," said Law. "If, somewhere down the road, there is an unresolved objection from someone we feel would be greatly affected by the project, then we would schedule a public hearing."
Once the AUC makes their decision, the project could move forward and construction would commence next year.