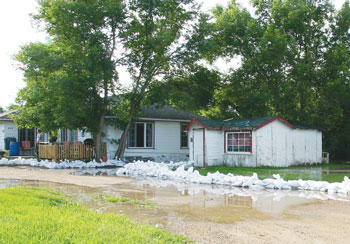 Mayor Terry Yemen believes there may be opportunities for residents affected by the flood in the Alberta Government's plan moving forward.
On July 14, the Alberta Government outlined its policies in wake of this year's flooding. According to a release, the government will support the decisions Albertans make about rebuilding their homes, including the decision to relocate out of the floodways.
"We want to give Albertans with flood-damaged homes the information they need to make choices to get their lives back on track. We also want to ensure we're spending responsibly and doing everything we can to prevent flood damage like this from happening again," said Doug Griffiths, Chair of the Ministerial Flood Recovery Task Force.
Mayor Yemen said he heard this week from the Associate Minister for Recovery and Reconstruction of Southeast Alberta, Greg Weadick, about the policy and says, on the surface, he feels it is a sincere plan.
"It is time to build and not tear down," said Yemen.
One compelling aspect of the plan, according to Yemen, is how it looks at planning for the future.
Homes located in a floodway, where the water flows are deepest, fastest and most destructive during a flood, are eligible for funding through the Disaster Recovery Program to rebuild or relocate.
Lands made available by residents leaving flood risk areas will be made available for flood mitigation and recreational use.
There will also be more funds made available through the program for mitigation measures undertaken on the part of residents. These must be approved and have protection against a 1-in-100 flood event. This could be berms or raising a house.
The policy also states that those who do not take measures to protect their homes following these events will not be eligible in the future for Disaster Recovery programs.
"Homeowners in a flood fringe who do not implement mitigation measures to protect against a 1-in-100 flood event will not be eligible for Disaster Recovery Program assistance in the event of future flooding. Residents who undertake approved flood mitigation measures will be eligible to receive Disaster Recovery Program assistance for any future flood that exceeds the 1-in-100 year flood event criteria," states the release.
"No eligible homeowner with flood damage will go without financial support; but when we're using Albertans' tax dollars, we need to empower those receiving funds to make responsible choices. That's what Albertans expect," said Griffiths.