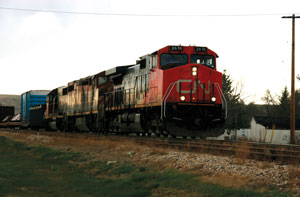 The campaign to purchase the rail line between Lyalta and Oyen is in full swing, as Brad Weibe of Palliser Regional Municipal Services, with Art Stacey and Hal Koberinski of RailWest Management, a company contracted to study the viability of developing a short line railway, were on tour to surrounding communities last week to garner support.
    The group was in Drumheller on Thursday, December 3 to make their presentation. About a dozen came out in Drumheller for the presentation.
    Part of the presentation was to garner support morally and financially.
    Time is of the essence for group as those at the meeting were told CN has issued Notice of Discontinuance.
     The notice appeared in the December 4 edition of inSide Drumheller. The company made official notice it intends to sell its ownership and operating interest in the Drumheller Subdivision (near Hanna to Lyalta) and the Oyen Subdivision (Hanna to Oyen). A deadline for parties to make their interest known is February 15, 2010.
    Art Stacey explained through RailWest Managements' studies of the line they have concluded that a viable short line railway can be built from Oyen to Lyalta. Not only would the line be a savings for shareholders that wish to ship their grain via rail, but it could also have economic spin offs and future community and economic development.
    He says CN has an interest in selling the line at a discounted price to a short line operator as it could lead to more business being delivered to CN from producers on the line.
    "If it goes through, they (CN) are getting a lot more traffic for free to pick up and take to the coast. They have a benefit. Where they gain they don't have a railway to maintain to a Class A level," said Weibe.
    Mr. Stacey laid out RailWest Management's proposed plan of action. They believe the most viable plan moving forward would be to lease the line from Oyen to Drumheller, and to purchase the west line, and believe an offer would look like about $8.3 million.
    He says this is a good plan because typically on a leased line there would be no rent for five years, and it would be difficult to raise the estimated $22 million to buy the line outright.
    To be ready to make an offer they hope to have raised $250,000 by the February 15 deadline in order to make a serious offer to CN. The Badlands Railroad Company has been incorporated to make this transaction.
    At the meeting they introduced their initial share offering. They are offering Class A voting shares at $1,000 each in hopes of raising an initial deposit to make the offer. Mr. Stacey says this share offering is very low risk because if the offer is rejected, the investors will see their money returned.
    Weibe said the two days of meetings were productive. They raised about $50,000, and as importantly they have individual support.
    'It's a good start, we also have a 20 to 25 member board of directors that was set up, so it is good support in both ways from these meeting in terms of people power and financially," said Weibe. There is still a long ways to go financially. It at least gives us a starting point now this board of directors can give us direction."
    For more information go to www.badlandsrail.com.