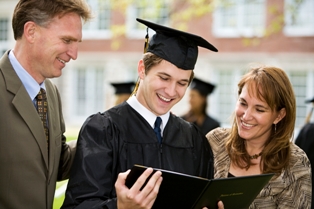 Dear Working Wise:

It's nearly time to start applying to post-secondary schools and my 17-year-old son still isn't sure what he wants to study. I'm worried that he might waste time and money taking courses that will be of no use to him, or worse, not even go to school. How can I encourage him to find a path and follow it? Signed, Concerned Father
Dear Concerned:
I am glad to hear that you are interested in your child's education. You play an important and influential role in helping your son make good decisions—even if it doesn't feel that way some days.
Step 1—Self-discovery is the foundation of solid career planning that will lead to a career he loves. Getting to know yourself can be tricky, though. The Alberta Learning Information Service (ALIS) web site http://alis.alberta.ca offers a free online, self-directed career-planning tool called CAREERinsite that he may find helpful. He may also prefer to use the This Is Your Life career & education planning workbook, which is available in the Publications section of the ALIS web site.
Step 2—Encourage him to explore the career possibilities. Discovering careers that fit his list of wants and interests may just be the thing to get him excited about his post secondary education. The ALIS web site features a wealth of information on career options including detailed profiles (http://alis.alberta.ca/occinfo) of more than 500 occupations, including typical wages, duties, work environments, employers, and educational requirements. ALIS also features video profiles of more than 200 careers from Baker's Helper to Utility Planning Technologist.
Step 3—Have him narrow down his choices. Suggest that he interview people who work in the careers that interest him. Informational interviews will give him a real-world view of the job plus they might open up other exciting opportunities. Job-shadowing, volunteering and part-time jobs are fantastic ways for students to pick up valuable work experience and try out careers before they spend years in post-secondary. He should also factor in what the future demand is likely to be for his target career by checking out Alberta's Occupational Supply and Demand Outlook at http://eae.alberta.ca/lmi.
Step 4—Help him choose a program and then a school. The ALIS website has a helpful section for Post-Secondary Students that can help your son find a program and choose a school using the EdInfo website at http://alis.alberta.ca/edinfo.
Step 5—Apply. The ApplyAlberta web site has made it easier for students to apply to one or more post-secondary institutions, authorize transcript transfers, and avoid having to fill out the same information over and over. Check out the ApplyAlberta web site at https://www.applyalberta.ca.
Step 6—Visit www.alis.alberta.ca/payingforschool to find out about the costs of post-secondary education and how to pay for it.
Finally, if you would like any more tips to help you work with your son, check out the Career Coaching Your Teens: A Guide for Parents publication on ALIS.
Planning out your education and career can be both fun and empowering. Having a plan and a goal will help your son get excited about post secondary and keep him motivated while he tackles the next few years of endless reading and cramming for exams.
Good luck to you both.
Do you have a work-related question? Send your questions to Working Wise, at charles.strachey@gov.ab.ca. Charles Strachey is a manager with Alberta Human Services. This column is provided for general information.