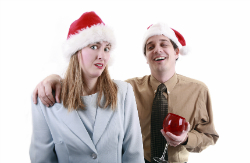 Dear Working Wise:
I was disappointed with how some of my staff behaved at last year's Christmas party. Do you have any tips you can share on how not to behave at the office Christmas party? Signed, Mortified Manager
Dear Mortified:
The annual office Christmas party can be a lot of fun and great time to bond with your coworkers, make inroads with your clients and get to know your staff or boss a little better.
But Ho Ho Hold on, it's also filled with opportunities to embarrass yourself and disappoint the people you work with every day.
A survey by OfficeSMART in the U.K. found that 29 per cent of respondents regretted something they did at a recent office party.
Good judgment is one of the most important attributes you can have—especially as you move into management roles.
How to stay off your boss's naughty list:
1. You're still at work—the party may be in a banquet room at the local Holiday Inn, but you should behave like you are still at work.
2. Arrive on time in a festive mood, mingle with as many people as you can, and don't be the last to leave—just like at work.
3. Avoid confrontations, flirting and gossiping—a party is the perfect time to get caught gossiping.
4. Don't complain about the party or your job – you don't want to appear ungrateful for either.
5. Watch your humour and avoid controversial topics.
6. Take it easy on the rum and eggnog—avoid becoming a cautionary example.
7. Put down the lampshade—camera phones and Facebook can eternalize brief lapses in judgment for everyone to enjoy including future employers.
8. Thank your boss for the party, even if it wasn't that great.
9. Don't wear anything too flashy, revealing or casual. You have to work with these people on Monday morning and you might be meeting their spouses. If you're not sure what to wear, check the dress code with the host.
10. Socialize—use the party as an opportunity to visit with your coworkers, clients and boss. This is a great time to thank your coworkers for their help over the past year, talk about the coming business year with your clients or discuss a shared interest with your boss.
11. Know their names—if you're bad with names and it's your Christmas party, take a few minutes to write down the names of key people and their spouses before the party. People are flattered when you remember their name and insulted when you forget. This will also help you avoid that awkward moment when your spouse is expecting you to introduce them and you can't.
Enjoy the party and show everyone that you're a class act!
Do you have a work-related question? Send your questions to Working Wise, at charles.strachey@gov.ab.ca. Charles Strachey is a manager with Albert Human Services. This column is provided for general information.