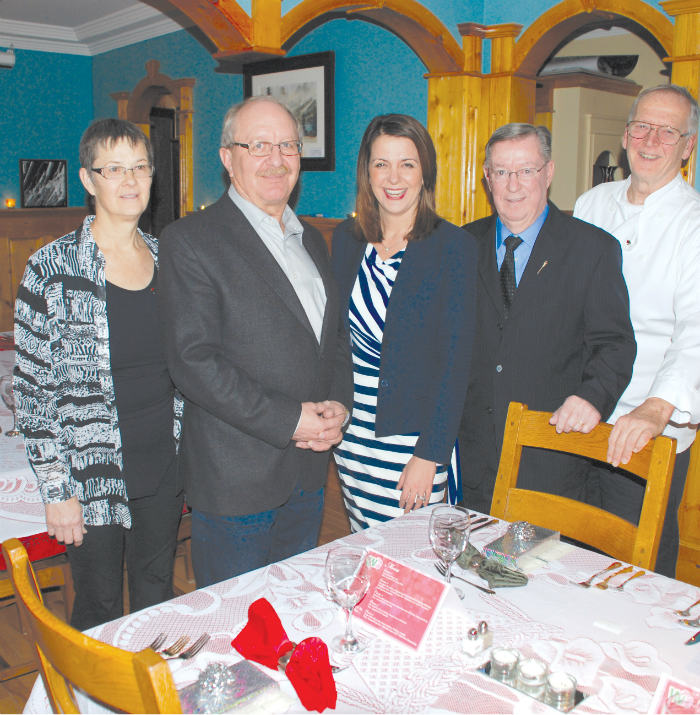 (l-r) Patrice Wolf of Heartwood Manor, Drumheller-Stettler MLA Rick Strankman, Wild Rose Leader Danielle Smith, Olds-Didsbury-Three Hills MLA Bruce Rowe, Zeke Wolf from the Heartwood Inn. The party leader and two MLAs were in the valley for a dinner fundraiser.
Wild Rose Party leader Danielle Smith was the guest of honour at a private fundraiser held Wednesday evening at Drumheller's Heartwood Inn.
Zeke Wolf toldinSide Drumheller that holding a fundraiser for the Wild Rose party was something he had in mind for a few years.
"I admire the Wild Rose Party and the common sense approach they take on issues", he said. "It takes money to run the party and we wanted to get her here to enjoy our hospitality, and it is a way for us to show support."
The 15 guests dined on a five course dinner that included a variety of dishes prepared and served by Zeke, Patrice and their staff.
Also in attendance at the function were Drumheller-Stettler MLA Rick Strankman, and Olds-Didsbury-Three Hills MLA Bruce Rowe, plus former Conservative MLA and cabinet minister Connie Osterman and her husband Joe. Osterman represented the Three Hills constituency from 1979 to 1992.
Smith was able to connect with some of her supporters at the exclusive event, while at the same time raise some needed funds for the party.