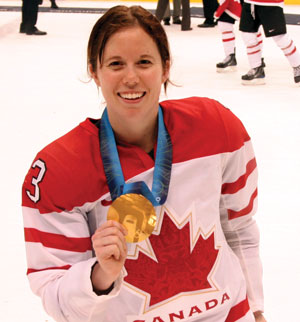 Next Thursday's Dragons game will be a golden one as Drumheller will play host to two-time hockey gold medal Olympian Carla MacLeod as she meets and greets with hockey fans at the Memorial Arena.


    MacLeod, 28, who took home gold in both the 2010 Vancouver and 2006 Torino winter games as a defenseman, has retired from international hockey for an RBC public relations gig, which is bringing her to town for the RBC Game Night on January 20. She's now also assistant coach with the Mount Royal University Cougars women's hockey team.
    "It's always an honour," says MacLeod of her Olympic tenure. "Growing up as a Canadian kid, it's one of the best jerseys you could ever put on."
    MacLeod helped contribute to Canada's highest ever gold medal earning Olympic debut. Canada set the record for most gold medals ever earned by a nation in a single winter
Olympics, with 14.
    "Anytime you can be a part of something that big and exciting, it's pretty special."
    MacLeod says she's looking forward to coming to Drumheller, not being here in years. The Dragons will be playing the Calgary Canucks that night, with the Canucks  headed up by coach Mel Davidson, who was MacLeod's coach during the Olympics.
    "There will be two of us in the building that night," says MacLeod.
    Dragons coach Dan Price is excited to have such big hockey talent in the building, with hopes it'll brush off on the Dragons.
    "We're all very excited to meet her and talk to her, and hopefully take some advice from her and some lessons on some of the things she's seen and done in hockey. She sustains excellence, something that's definitely one of our goals as a team," says Price.
    Along with her two Olympic gold medals, MacLeod has earned three silver medals and one gold in the IIHF World Women Junior Championships.