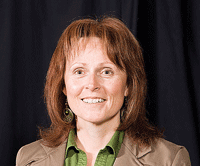 Age: 42
Employer: Century 21 PowerRealty.ca
Job title: Realtor
Dreams or goals? Self sustained green living
Hobbies and interests? Baking, cooking, gardening, psychology, sociology, education and motor biking.
How long have you been in Drumheller? Five months.
Where are you from? I was raised in Three Hills, and spent the last four years in Lethbridge.
What do you like about your job? I love helping people achieve their goals.
If you were stuck on a desert island, what would be the one thing you'd bring? The Bible.
If you were at a Led Zeppelin concert, you would be: in the car, in the band, a roadie, or in the audience? I would be in the audience, enjoying the music.
What's in your CD player? The Baddest of George Thorogood and the Destroyers.
Favourite book? The Power of Focus by Jack Canfield, Mark Victor Hansen, Les Hewitt.
Favourite movie? Christmas Vacation with Chevy Chase.
If you had a million dollars... I would create a self sustained campground and market garden, in a coulee.
Who'd you like to have dinner with, dead or alive? My grandpa Jack, as he was a very positive motivator in my life.
Words to live by? Live, love, laugh, learn.
If you had a time machine, where would you go? Back to 1982 and clue myself into what life is about.