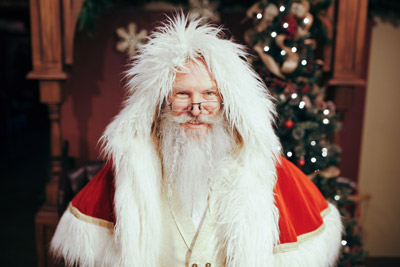 Who are you? Father Christmas or Santa Claus.
What is your age?
I am eternal.
What is one of your goals?
To bring joy and smiles to children of all ages everywhere!
Do you have any hobbies and interests?
Painting toys; feeding reindeer, eating cookies, walking in the woods, snowshoeing.
How long have you been in Drumheller?
Every December for eons.
Where are you from?
The North Pole!
What do you like most about your job?
I meet people from all over the world and share laughs and stories together.
If stranded on an island, what tool would you need?
My Electro-magneto, whirlygig-a-gogo screwdriver Whatchathingymabob!
What's in your CD player?
Assorted Christmas Music.
What is your favourite book?
It was a long dark winter's eve.
Favourite movie?
Miracle on 34th Street.
What would you do if you had a million dollars?
It would go to help kids in hard times.
If you could have dinner with anyone dead or alive, who would it be?
The real Saint Nicholas of Myra. He really got things going for me here in the west, or some of those early Vikings during their Yule celebrations.
If you had a time machine where would you go?
Back to the first Christmas. I think seeing that brilliant star would really be something!
What are some wise words of wisdom for everyone?
There is a lot of magic in an everyday smile.