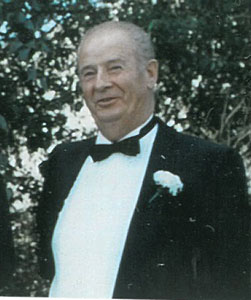 The path to Drumheller was different for the various families who have come and put their stamp on the valley. One of those men was Harry Gough Senior.
While he passed in 1998, his impact on the valley is visible from the strong family routes, Dinosaur Trail Golf and Country Club, and just below the surface many of the dinosaurs throughout the valley.
Harry was born in Wainwright, Alberta in 1911. His father was a CPR engineer. When he was old enough, he struck out on his own and headed to Edmonton. Here he made a living driving for Greyhound Bus Lines, and explored the highways north. Harry Junior recalls his father telling him some of the communities he served were so remote they used to sit at the hotel and place bets on which direction the next person walking by the window would come from.
In Edmonton he met a Drumheller girl by the name of Elizabeth (Bessie) Sobat, whose family's home in Drumheller is less than a block away from the present Schumacher, Gough and Company offices. They married and had three children, Harry Junior in 1939, Marilyn in 1941, and Wendy in 1946.
During World War II, Harry Sr. enlisted in the Air Force and served as an aircraft mechanic. He was a Gold Medalist in Aero-Engine Mechanics. Harry Jr. explained the practice was that after an aircraft was repaired, the mechanic was the first to fly. Because of this, Harry Sr. flew with World War I aces Wop May and Billy Bishop who were involved in training pilots during World War II.
While he served, Bessie went to live in the valley to get some family help raising their children.
After the war, Harry found a job with Pepper Bros. Machine Shop. This was located where Everybody's Gym now stands.
In 1948, he moved the family to East Coulee where he went to work at the Monarch Mine near East Coulee. There he served as Fire Boss and an electrician.
In 1952, he settled back in Drumheller and bought a 75 per cent stake in Pepper Bros.
Harry Jr. remembers his father was hardworking, and almost always on call. There would be telephones ringing in the middle of the night for emergency repair work that needed to be done, and his father would head out to do it.
Harry Sr. had a knack of being able to "jerry rig" his customers' machinery together and get them on the road and in service until the proper part could be found or built.
Harry Jr. remembers he always had a part time job on the weekends cleaning shop or helping out. Before he studied law, he earned his papers as a machinist at the shop.
While Tig Seland and Murray Olson were often credited with building the various dinosaurs that now decorate the streets of Drumheller, Harry Sr. did much of the metal framing that went into them.
Harry Sr. was an avid hunter and often served as a guide. On one occasion, Harry Jr. remembers when a big Black Chrysler arrived with likes of Justice Millvain and former Chief Justice of the Trial Division of the Supreme Court of Alberta Campbell McLaurin set to go hunting. Harry Sr. also guided Bing Crosby and funny man Phil Harris on a hunting trip.
In the mid '60s, around the time the Drumheller Institution was being built, Harry Sr. was one of the main drivers in building the new Dinosaur Trail Golf and Country Club. In fact, he owned the number one share for the club.
He worked tirelessly to make it a reality. In fact, it probably took a chunk out of his business. Harry Jr. remembers his mother driving out to the golf course with all kinds of paperwork for his father to sign off on, because he wasn't in the office to do it.
Jack Archibald and Harry Jr. were enlisted to weld the entire plumbing system for the course. Harry even made the trip to Edmonton to make sure he had a liquor license for the course in his hands before opening, a job that could have simply been done over the phone.
After the course was built, his involvement never dwindled. Harry Jr. still hears from a number of ladies about how good of an instructor his father was as he introduced them to the game.
Harry Sr. sold the shop in 1975 when he retired. The family grew with nine grandchildren, and family ties always remained strong. His grandson Trevor even asked Harry Sr. to be the best man at his wedding.
Harry Senior passed away in 1998, yet his impact on the valley and his family will endure.