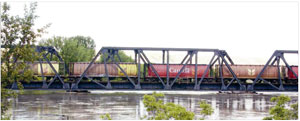 Touching on the flood of 1948 in the last edition of The Mail, the floods of 2005 is an event much fresher in the minds of Drumheller residents who faced losing their homes to the swollen Red Deer River.

    Water levels of the Red Deer River nearly submerged the train bridge in late June 2005 as "flood watchers" gathered onto the Gordon Taylor Bridge and into valley hotels and emergency centres after water levels at the Dickson Dam got too high and caused communities upstream to flood.
    Former Mayor Ainscough declared a state of emergency for Drumheller on June 18, warning the areas of Lehigh, Rosedale, Cambria, East Coulee, and parts of Drumheller that evacuation might be needed.
    At 9 a.m. on June 19, one third of Drumheller's residents (3,000) were forced to evacuate their homes and more urged to voluntarily head for safety. Two reception centres were established at the Stampede grounds and Greentree School. 
    About 25 residents were flooded, and one fatality was caused when a tractor trailer and driver were submerged in the swollen Red Deer River after a three vehicle crash on Morrin Bridge on June 20 – said to be caused by people lined up on the bridge watching the flood. The flooded homes were primarily located in Nacmine and East Coulee.
    The river hit a high mark of 1,394 cubic metres per second, just below the town's one in 100 year flood level of 1,400. Dykes constructed to halt the water flow from entering residences held strong, officials said.
    Drumheller was not the only community hit with flooding that year, as others like Calgary and Red Deer saw significant damage from the high waters. It was said at the time that Alberta had not seen flooding on that scale in 200 years.
    About 2,000 residents registered at the emergency centres.
    Countless volunteers turned out to lay down sandbags, lay down dykes, and run emergency centres as many residents feared significant damage to their homes. The dykes constructed to keep water from encroaching on properties along the river held strong as water had risen within half a metre of overtaking them, officials at the time said.
    The Mail reported there were so many volunteers filling sandbags that the town's public works yard was "congested". "It's fantastic that in a time of need, people show support for each other," Doug Lovsin was quoted saying in The Mail. "It makes me proud to live in a community that cares so much for each other."
    Mutual aid was requested from neighbouring Starland, Kneehill, Wheatland counties, and Special Areas.