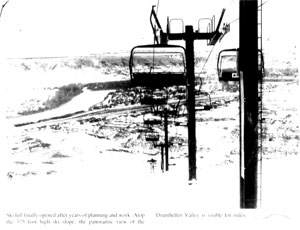 On Christmas Eve 1993 the Drumheller ski hill finally opened after years of fundraising and with an overwhelming support from the community.

    It began with a study on the feasibility of building a ski hill on the 400 vertical foot hill on the property which contained a Drumheller Institution building.
    "Once we had that survey done, we were able to pull it apart. It made us more resolved that we could build a ski hill," says Doug Wade, the fundraising chair of the Drumheller Valley Ski Club group who laid down the foundation of the club.
    Wade and the group of board members travelled to Battle River, a small community which had been operating a small hill for 40 years. They provided the group with all their financial records.
    "When we came home on the bus that night, we parked at the bottom of the hill and talked about the ski hill. That's when the resolve got stronger," says Wade.
    They began undertaking studies and comparisons to the hill in Battle River. If they could do even as well as they did, never mind that they would have a taller hill with a much better chair lift, they would have 19,000 skier visits a year, they estimated.
    They learned that North Battleford, Saskatchewan had the most successful novice hill in Western Canada 20 minutes outside their community. Their hill is almost identical in size to the potential site in Drumheller.
    "We thought we had a big advantage because ours was more visible to everyone, particularly to those in Midland."
    After years of fundraising, countless donations (including the 500/500 club which raised $250,000) and continual press in The Drumheller Mail, the hill opened on December 24, 1993. It was a partnershup between the Passion Play and the Drumheller Valley Ski Club, with the lodge shack being donated by the Institution.
    But it did not become the success the ski club board hoped it would be.
    "The bottom line to why the hill is not working here is that it's not getting enough skier visits," says Wade, adding the hill only received 9,000 skier visits a year – 10,000 less than they had estimated or hoped.  It continued to slide downward. "You've got to get more than that."
    After a year of opening, they began a well planned marketing campaign which "wasn't a success".
    "We didn't get the people that support it within 80 kilometres. We didn't get people from the municipalities and districts around here to kick in."
    It opened with between $60,000-70,000 worth of debt, with most of it being paid off by its eighth year of operation. Afterwards, it began to accumulate more debt, says Wade.
    And now, 18 years after the chairlifts began to climb up and down the hill they sit idle as the hill was forced closed and the fate of the hill is uncertain.