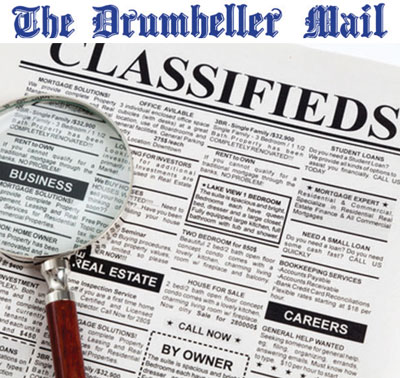 ANNOUNCEMENTS
AL-ANON, Wednesday evenings, 6:30 pm, Telus Bldg, 4th Floor. Call Lynne (403) 822-0008 or Carol (403) 772-2373.
THE HAPPY DESTINY Alcoholics Anonymous Group meets every Monday at 7 p.m. "Open Meeting". Grace Lutheran Church.
AA GROUP... Church of Nazarene. Wednesdays, noon. Contact Art 403-821-1464.
FARMER'S MARKET
FARMLAND/PASTURE WANTED
WANTED... Cultivated farmland in the Drumheller area for cash rent or sale. 403-321-0214.
WANTED... Farmland to rent in Drumheller, Dalum, Verdant Valley or Delia area. Phone 403-823-9222; 403-334-3644.
PRODUCE
PRODUCE FOR SALE... Verdant Valley Colony will be selling fresh produce every Friday starting July 8 until Thanksgiving weekend from 10:00 am to 5:30 pm at the corner of Circle K Mac's Convenience Store in Drumheller.
REAL ESTATE FOR SALE
HOUSE FOR SALE
HOUSES FOR SALE - Can't find it here or on MLS? Check out www.powerrealty.ca.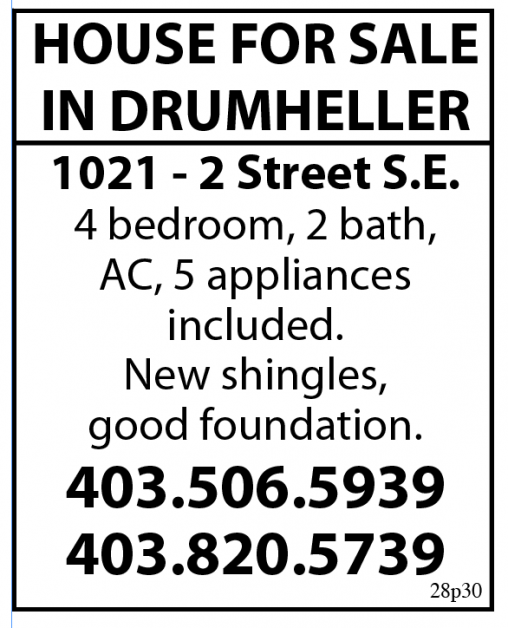 RENTAL PROPERTY
HOUSE FOR RENT
Century 21 manages over 100 rental properties. 1, 2, and 3 bedroom homes and suites for rent. Check out www.rentdrumheller.ca for a list of current properties for rent & apply online at www.rentd.ca on your phone or home computer. 403-823-2121 M-F.
APARTMENT FOR RENT
FOR RENT... Hunts Place Apartments (Corner of Hunts Dr. & 2nd St. E). Quiet, adult oriented, non-smoking building with security door, laundry facilities, parking with plug-in. 1 & 2 bedrooms. Wifi hot spot. https://write67.wixsite.com/hunts-place Phone 403-821-0770.