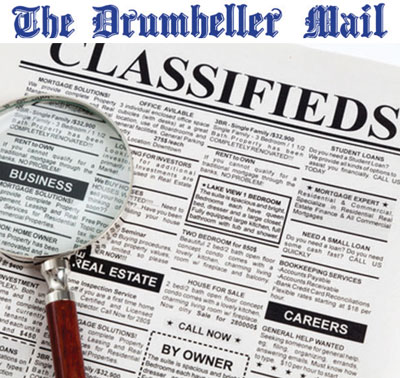 PERSONALS
LOOKING FOR... Information or relatives of James Cameron. I am his great granddaughter. He was from Scotland. He died following injuries in a Drumheller mining accident in November 1926 leaving an 8-month-old granddaughter. He had a sister, Mrs Jim McKay. Would love to have contact via email:nickyheenan@live.co.uk
COMING EVENTS
AGM... Drumheller Approved Farmers Market AGM. Wednesday, March 25, 2020, 6:30 p.m. Freson Bros. upstairs. Election of officers.
Everyone welcome. Contact
Louise 403-334-0477 (manager) drumfarmersmarket@gmail.com or Pat 780-330-9263 (president) for details.
AGM... The Annual General Meeting of the Dalum Community Hall Association is to be held at the Dalum Community Hall at 7:00 p.m. on Tuesday, March 17. Attendance is encouraged, refreshments to follow.
AGM...Big Country Gas
Co-op Ltd.
Annual General
Meeting
Wednesday,
March 18, 2020
at 1:00 p.m.
Shop/Firehall Meeting Room, Morrin, AB.
Coffee and Donuts
IN MEMORIAM
Alma Jean
Fayant
(Racette)
March 5, 1945 - April 17, 1999
(54 years)
Mom, Grandma
Amanda Elizabeth
Long
(Grenier)
March 12, 1984 - July 26, 2018
(34 years)
Daughter, Sister,
Granddaughter,
Auntie, Mommy
Remembering you is easy
It happens every day
Missing you is something
That never goes away.
"A Butterfly
will appear
when a visitor
from Heaven
is near."
'Til we meet again;
Your family,
who will always
love and miss you.
IN MEMORIAM
In memory of
Gail Hatfield
Sunrise - March 21, 1942
Sunset - March 3, 2013
He saw the road was getting rough
And the hills were hard to climb
He closed your weary eyes
And whispered - Peace be thine
It broke our heart to lose you
But you didn't go alone
For part of us went with you
The day God called you home
Missing and loving you
Hubby George,
Children Elin (Randy)
& Sean (Andrea)
Grandchildren
Brandin, Shayne and Sydney Marie
FOR SALE
FIREWOOD
WOODCHUCKERS... Pine and Birch Firewood for sale. Delivery available. 403-318-5314.
AUTO
2012 Mitsubishi Outlander, AWD, 3.0 L, new tires, dark blue, excellent condition, remote start, 162 km, serviced by Auto Mechanic, $9,900.00 403-820-0200
PETS FOR SALE
Purebred Siberian Husky puppies 1 - Female, 3 - Males. $900.00 each. 403-572-0002
WANTED
WANTED... Used Electrolux Vacuum. Call 403-820-5470
HELP WANTED
WANTED
Class 1 driver for grain transport. Must have clean driver abstract. The job begins
April 1st, Monday
to Friday hauling.
Email resume to
dewakat@aisnet.ca
or call Duane at
403-334-3644.
RENTAL PROPERTY
HOUSE FOR RENT
Century 21 manages over 100 rental properties. 1, 2, and 3 bedroom homes and suites for rent. Check out www.rentdrumheller.ca for a list of current properties for rent & apply online at www.rentd.ca on your phone or home computer. 403-823-2121 M-F.
APARTMENTS FOR RENT
FOR RENT... Quadra Manor 1 and 2 bedroom suites available. Includes free heat, free water, parking, air conditioning, coin laundry. No children. Phone 1-403-856-4401.
FOR RENT... Juniper Manor 1 and 2 bedroom suites available. Includes free heat, free water, parking, air conditioning, coin laundry. No children. Phone 1-403-856-4401.
FOR RENT... Sage Manor. 1, 2 and 3 executive suite bedroom aprtments located at #333 - 2nd Street East. Mature adults only. No smoking. Available immediately. View at sagemanor.com. Call 403-823-0964.
Hunts Place Apartments (Corner of Hunts Dr. & 2nd St. East). Quiet, adult oriented, security door & intercom, garden patios or large balconies, laundry facilities, parking with plug in, fridge, stove, window coverings, hot water & heat, WiFi hotspot, no smoking, no pets, www.wix.com/writem5/hunts-place. Phone (403) 820-1665 or (403) 821-0266.
ROOM FOR RENT
ROOM FOR RENT... Greentree area. $290/month. Room in quiet, clean bi-level house. Shared accommodation, non-smoking. Utilities and internet included. adso@shaw.ca
4 PLEX FOR RENT
FOR RENT... 4 Plex for rent in Morrin. Available March 1. 5 appliances, 2 bedroom. $750/month. Dave 403-820-4100.
DUPLEX FOR RENT
DUPLEX FOR RENT... Nacmine. 2 bedroom, 1 bath, upstairs, 1 bedroom down. Partially fenced, $1000/month plus utilities. $1000 Damage Deposit. 403-854-0527
REAL ESTATE FOR SALE
HOUSE FOR SALE
HOUSES FOR SALE - Can't find it here or on MLS? Check out www.powerrealty.ca. tfc
FARMER'S MARKET
FARMLAND/PASTURE WANTED
WANTED... Farmland to rent in Drumheller, Dalum, Verdant Valley or Delia area. Phone 403-823-9222; 403-334-3644.
ANNOUNCEMENTS
AL-ANON, Wednesday evenings, 6:30 pm, Telus Bldg, 4th Floor. Call Lynne (403) 822-0008 or Carol (403) 772-2373.
Saturday Sunrise Meeting, Alcoholics Anonymous, 9 am, Knox United Church. Contact Helen 403-823-5593.
THE HAPPY DESTINY Alcoholics Anonymous Group meets every Monday at 7 p.m. in the Badlands Room at the Drumheller Health Complex. "Open Meeting".