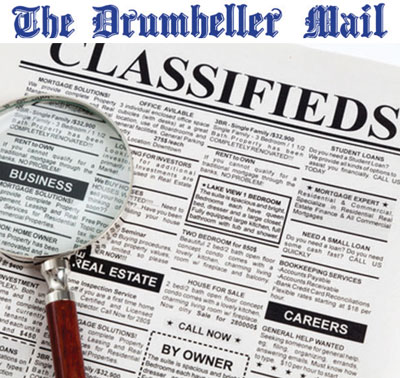 COMING EVENTS
AGM... Drumheller Approved Farmers Market AGM. Wednesday, March 25, 2020, 6:30 p.m. Freson Bros. upstairs. Election of officers. Everyone welcome. Contact
Louise 403-334-0477 (manager) drumfarmersmarket@gmail.com or Pat 780-330-9263 (president) for details.
AGM... The Annual General Meeting of the Dalum Community Hall Association is to be held at the Dalum Community Hall at 7:00 p.m. on Tuesday, March 17. Attendance is encouraged, refreshments to follow.
IN MEMORIAM
In memory of
Gail Hatfield
Sunrise - March 21, 1942
Sunset - March 3, 2013
He saw the road was getting rough
And the hills were hard to climb
He closed your weary eyes
And whispered - Peace be thine
It broke our heart to lose you
But you didn't go alone
For part of us went with you
The day God called you home
Missing and loving you
Hubby George,
Children Elin (Randy)
& Sean (Andrea)
Grandchildren
Brandin, Shayne and Sydney Marie
FOR SALE
FIREWOOD
WOODCHUCKERS... Pine and Birch Firewood for sale. Delivery available. 403-318-5314
AUTO
2012 Mitsubishi Outlander, AWD, 3.0 L, new tires, dark blue, excellent condition, remote start, 162 km, serviced by Auto Mechanic, $9,900.00 403-820-0200
EMPLOYMENT
2020 EMPLOYMENT OPPORTUNITIES...
SUMMER LIFEGUARDS
- The Village of Carbon is now
accepting applications for the
2020 Centennial Swimming Pool
Lifeguard Staff including Junior
& Senior Lifeguards. All experienced
Lifeguards welcome.
First aid, bronze medallion and
bronze cross required, WSI not
required but recommended.
Please contact the Village for
more information. Deadline:
March 15, 2020.
SEASONAL SUMMER STUDENT
EMPLOYMENT
PUBLIC WORKS LABOURERS -
Main duties include mowing,
weed maintenance, painting,
and indoor/outdoor clean-up.
Applicants must be physically
fit and able to work in various
weather conditions. Two positions
to start July 2 through to
the end of August 2020. Ages
15+, 37.5 hours per week. Drivers
Licence preferred, but not
required. Deadline: March 15,
2020
CAMPGROUND ATTENDANT
- Carbon is accepting application
for a Part-time contracted
campground attendant. Hours
per week approximately 10-15,
mostly weekends. Camping season
is May - October. Contact
Village Office for list of duties.
Deadline: March 15, 2020
All Positions: Resumes may be
dropped off or mailed to the
Village Office, 238 Hillside Ave.,
Box 249, Carbon AB, T0M 0L0 or
email to: office@villageofcarbon.
com
RENTAL PROPERTY
HOUSE FOR RENT
Century 21 manages over 100 rental properties. 1, 2, and 3 bedroom homes and suites for rent. Check out www.rentdrumheller.ca for a list of current properties for rent & apply online at www.rentd.ca on your phone or home computer. 403-823-2121 M-F.
HOUSE FOR RENT... 2 bedroom -1235 2 Avenue Newcastle. F.S.W.D., central air, large fenced yard, storage shed. Available immediately. $750/month. Kent 403-820-3146.
APARTMENTS FOR RENT
FOR RENT... Quadra Manor 1 and 2 bedroom suites available. Includes free heat, free water, parking, air conditioning, coin laundry. No children. Phone 1-403-856-4401.
FOR RENT... Juniper Manor 1 and 2 bedroom suites available. Includes free heat, free water, parking, air conditioning, coin laundry. No children. Phone 1-403-856-4401.
FOR RENT... Sage Manor. 1, 2 and 3 executive suite bedroom apartments located at #333 - 2nd Street East. Mature adults only. No smoking. Available immediately. View at sagemanor.com. Call 403-823-0964.
ROOM FOR RENT
ROOM FOR RENT... Greentree area. $290/month. Room in quiet, clean bi-level house. Shared accommodation, non-smoking. Utilities and internet included. adso@shaw.ca
4 PLEX FOR RENT
FOR RENT... 4 Plex for rent in Morrin. Available March 1. 5 appliances, 2 bedroom. $750/month. Dave 403-820-4100.
DUPLEX FOR RENT
DUPLEX FOR RENT... Nacmine. 2 bedroom, 1 bath, upstairs, 1 bedroom down. Partially fenced, $1000/month plus utilities. $1000 Damage Deposit. 403-854-0527
Hunts Place Apartments (Corner of Hunts Dr. & 2nd St. East). Quiet, adult oriented, security door & intercom, garden patios or large balconies, laundry facilities, parking with plug in, fridge, stove, window coverings, hot water & heat, WiFi hotspot, no smoking, no pets, www.wix.com/writem5/hunts-place. Phone (403) 820-1665 or (403) 821-0266.
REAL ESTATE FOR SALE
HOUSE FOR SALE
HOUSES FOR SALE - Can't find it here or on MLS? Check out www.powerrealty.ca.
FARMER'S MARKET
FARMLAND/PASTURE WANTED
WANTED... Farmland to rent in Drumheller, Dalum, Verdant Valley or Delia area. Phone 403-823-9222; 403-334-3644.
ANNOUNCEMENTS
AL-ANON, Wednesday evenings, 6:30 pm, Telus Bldg, 4th Floor. Call Lynne (403) 822-0008 or Carol (403) 772-2373.
Saturday Sunrise Meeting, Alcoholics Anonymous, 9 am, Knox United Church. Contact Helen 403-823-5593.
THE HAPPY DESTINY Alcoholics Anonymous Group meets every Monday at 7 p.m. in the Badlands Room at the Drumheller Health Complex. "Open Meeting".
THANK YOU
Thank You, There are so many
people I need to thank...First to Dr. Ram and Dr. Russell (Orthopedic Surgeon), then to the fantastic nurses in the Acute Care and Coal Banks. There's also the awesome crew in Physio and OT - namely Rachel, Melissa and Kelsie who made hard work fun!
Thanks to the maintenance and kitchen staff- to the Ambulance crew and now to the great Home Care gals who come every day.
Thanks to my family and friends who were always there for
me with food, gifts, and visits (and keeping PICO).
Thanks to Bob and Carroll for the beautiful floral
arrangements every week.
Love to you all, Vi Adie