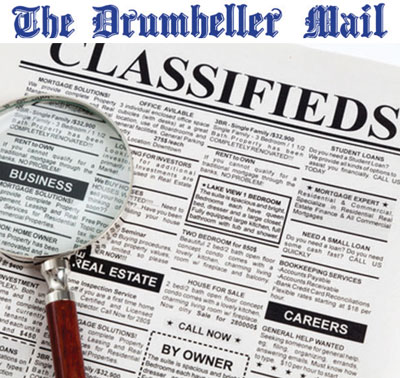 IN MEMORIAM
Remembering
Brenda Colberg
20 years ago you left this earth,
20 years you never left our hearts.
Fondly remembering
the best of times,
The Stefanishion families
MILESTONES
1925 - 2020
Happy 95th Birthday Adam Horehlad
on January 31st
Best Wishes from Donna and Dawn
FOR SALE
FIREWOOD
WOODCHUCKERS... Pine and Birch Firewood for sale. Delivery available. 403-318-5314.
GOLF CLUBS FOR SALE
Time to clean out the closet
Ping G30 irons (yellow dot)
5,6,7,8,9,W,U
Good grips, reg. shafts $600
Big Bertha Diablo
3 wood R shaft
good grip, cover $65
Taylor Made R15 Driver
10.5 reg shaft, good grip $160
Scotty Cameron putter,
Sonoma Two
35", average condition,
no cover $100
Ping 62 Putter (green dot)
New grip 35"
with cover $65
Vokey 52 wedge
average condition,
good grip $35
Titleist Scotty Cameron Select
putter New (plastic still on grip)
never used, 35"
with SC cover $325
Ping Eye 3 MLH
Maroon, stiff shaft
4 - S.W. $200
Taylormade Burner MLH
driver, 3 wood, 5 wood
stiff flex shaft (all 3) $175
Taylormade Burner MLH
#3 Rescue $30
Titleist Vokey Wedge MLH
500 $30
All clubs are clean.
Call Ossie at The Drumheller Mail
403-823-2580.
EMPLOYMENT
HELP WANTED
HELP WANTED... For the 2020 grazing season. Range Manager for the Rowley Grazing Association Community Pasture. Capacity approximately 500 cow/calf pairs. Duties would include treating cattle, rotating cattle, minor fence repairs, pulling bulls. For more information, call Keith at 403-854-0975, Doug at 403-823-1941 or email: ddbrewitt@netago.ca Resume and expected wage to be received by January 31, 2020. Send to box 12, Rumsey, AB T0J 2Y0 or to the above email.
RENTAL PROPERTY
HOUSE FOR RENT
Century 21 manages over 100 rental properties. 1, 2, and 3 bedroom homes and suites for rent. Check out www.rentdrumheller.ca for a list of current properties for rent & apply online at www.rentd.ca on your phone or home computer. 403-823-2121 M-F.
HOUSE FOR RENT... 900 sq.ft., 2 1/2 bedroom house close to downtown. Spacious living room and kitchen, main floor laundry, F&S, new energy efficient windows (4) in bedrooms and front room picture window. Upgraded furnace, and hot water tank. No smoking, no pets. Available February 1. $725/month plus utilities. DD $725. 403-820-8881 for more information.
HOUSE FOR RENT... 2 bedroom - 1235 2 Avenue Newcastle. F.S.W.D., central air, large fenced yard, storage shed. Utilities included in rent. Available immediately. Kent 403-820-3146.
ROOM FOR RENT
ROOM FOR RENT... Greentree area. Room in quiet, clean Bilevel house. Shared accommodation, non-smoking. Utilities and internet included. adso@shaw.ca
APARTMENTS FOR RENT
FOR RENT... Quadra Manor 1 and 2 bedroom suites available. Includes free heat, free water, parking, air conditioning, coin laundry. No children. Phone 1-403-856-4401. 3p6
FOR RENT... Juniper Manor 1 and 2 bedroom suites available. Includes free heat, free water, parking, air conditioning, coin laundry. No children. Phone 1-403-856-4401.
FOR RENT... Sage Manor. 1, 2 and 3 executive suite bedroom apartments located at #333 - 2nd Street East. Mature adults only. No smoking. Available immediately. View at sagemanor.com. Call 403-823-0964.
Hunts Place
Apartments
(Corner of Hunts Dr. & 2nd St. East)
• Quiet, adult oriented
• Security door & intercom
• Garden patios or large balconies
• Laundry facilities
• Parking with plug in
• Fridge, stove, window coverings,
hot water & heat
• WiFi hotspot
• No smoking
www.wix.com/writem5/hunts-place
Phone 403-443-1471
REAL ESTATE FOR SALE
HOUSE FOR SALE
HOUSES FOR SALE - Can't find it here or on MLS? Check out www.powerrealty.ca.
FARMER'S MARKET
FARMLAND/PASTURE WANTED
WANTED... Farmland to rent in Drumheller, Dalum, Verdant Valley or Delia area. Phone 403-823-9222; 403-334-3644.
ANNOUNCEMENTS
AL-ANON, Wednesday evenings, 6:30 pm, Telus Bldg, 4th Floor. Call Lynne (403) 822-0008 or Carol (403) 772-2373.
Saturday Sunrise Meeting, Alcoholics Anonymous, 9 am, Knox United Church. Contact Helen 403-823-5593.
THE HAPPY DESTINY Alcoholics Anonymous Group meets every Monday at 7 p.m. in the Badlands Room at the Drumheller Health Complex. "Open Meeting".