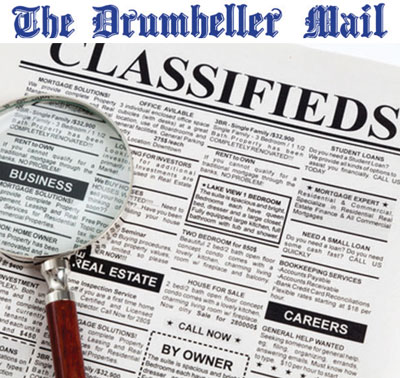 IN MEMORIAM
In loving memory of
Roy Uhrich
January 18, 1936 -
December 23, 2017
2 years have passed -
we miss you every day.
Those we love
don't go away,
They walk beside us
every day.
Unseen, unheard,
but always near,
Still loved, still missed,
And always dear.
All our love,
Stella
Joanne and Steve
Lee and Char
Karley Jo
The road goes on forever,
The party never ends.
IN MEMORIAM
I miss you so much
DAD
(Wally Olmstead)
You were a Dad who was so special
And who was loved so very much,
And brought so much happiness
To the many hearts you touched.
You were always kind and caring
And so understanding too,
And, if help was ever needed Dad
It so freely came from you.
You were a gift to all the world
And brought joy to everyone,
And life has never been the same
Ever since you have been gone.
Love always;
Al, Sheila
Derek, Candice, Liam & Dax
Mitch, Brook and Bridget
WANTED
FIREWOOD
WOODCHUCKERS... Pine and Birch Firewood for sale. Delivery available. 403-318-5314.
EMPLOYMENT
HELP WANTED
HELP WANTED... For the 2020 grazing season. Range Manager for the Rowley Grazing Association Community Pasture. Capacity approximately 500 cow/calf pairs. Duties would include treating cattle, rotating cattle, minor fence repairs, pulling bulls. For more information, call Keith at 403-854-0975, Doug at 403-823-1941 or email: ddbrewitt@netago.ca Resume and expected wage to be received by January 31, 2020. Send to box 12, Rumsey, AB T0J 2Y0 or to the above email.
RENTAL PROPERTY
HOUSE FOR RENT
HOUSE FOR RENT... 2 bedroom house in Newcastle. Fridge, stove, washer, dryer. a/c. Large fenced lot, storage building. $750/month plus utilities. Available immediately. Kent 403-820-3146.
Century 21 manages over 100 rental properties. 1, 2, and 3 bedroom homes and suites for rent. Check out www.rentdrumheller.ca for a list of current properties for rent & apply online at www.rentd.ca on your phone or home computer. 403-823-2121 M-F.
HOUSE FOR RENT... 5 bedrooms/2 full bathrooms in Munson with fridge, stove, washer, dryer. Recently renovated. Available January 1. $1,000/month. Call (403) 820-0240.
HOUSE FOR RENT... 2 bedrooms/1 bathroom with fridge and stove. Utilities included. No smoking and no pets. Call (403) 820-0240.


ROOM FOR RENT
ROOM FOR RENT... Greentree area. $320/month. Bedroom in quiet, clean, bi-level house. Non-smoking. Utilities and internet included. adso@shaw.ca
APARTMENTS FOR RENT
FOR RENT... Renovated one bedroom apartment for rent in nice building. $750 per month. No kids, no pets. Comes with fridge, stove, A/C, car plu on. $750 DD. Call 403-820-2337.
FOR RENT... 1 bedroom apartment. 250 - 1 Street West. $725/month plus power. No smoking or pets. Call 403-823-1875.
FOR RENT... Sage Manor 1, 2, and 3 executive suite bedroom apartments located at #333 - 2nd Street East. Mature adults only. No smoking. Available immediately. View at sagemanor.com. Call 403-823-0964.
FOR RENT... Quadra Manor. 1 and 2 bedroom suites available. Includes free heat, free water, parking, air conditioning, coin laundry. No children. Phone 1-403-856-4401.
FOR RENT... Juniper Manor. 1 and 2 bedroom suites available. Includes free heat, free water, parking, air conditioning, coin laundry. No children. Phone 1-403-856-4401.
Hunts Place
Apartments
(Corner of Hunts Dr. & 2nd St. East)
• Quiet, adult oriented
• Security door & intercom
• Garden patios or large balconies
• Laundry facilities
• Parking with plug in
• Fridge, stove, window coverings,
hot water & heat
• WiFi hotspot
• No smoking
www.wix.com/writem5/hunts-place
Phone 403-443-1471
QUONSET FOR RENT
FOR RENT... Quonset on Delia area acreage. Heated, insulated 60x100 quonset, concrete floor, work benches, tool storage, suitable for long haul truckers. 780-991-8435.
REAL ESTATE FOR SALE
HOUSE FOR SALE
HOUSES FOR SALE - Can't find it here or on MLS? Check out www.powerrealty.ca.
FARMER'S MARKET
FARMLAND/PASTURE WANTED
WANTED... Cultivated farmland in the Drumheller area for cash rent or sale. 403-321-0214.
WANTED... Farmland to rent in Drumheller, Dalum, Verdant Valley or Delia area. Phone 403-823-9222; 403-334-3644.
ANNOUNCEMENTS
AL-ANON, Wednesday evenings, 6:30 pm, Telus Bldg, 4th Floor. Call Lynne (403) 822-0008 or Carol (403) 772-2373. 26
Saturday Sunrise Meeting, Alcoholics Anonymous, 9 am, Knox United Church. Contact Helen 403-823-5593.
THE HAPPY DESTINY Alcoholics Anonymous Group meets every Monday at 7 p.m. in the Badlands Room at the Drumheller Health Complex. "Open Meeting".