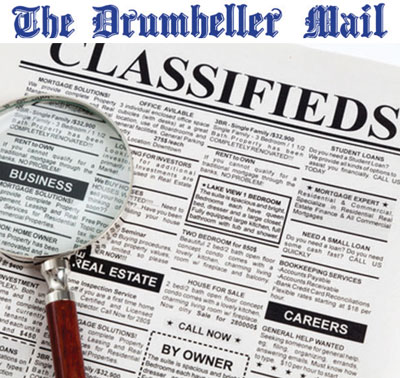 COMING EVENTS
POT LUCK SUPPER... A pot luck supper and social evening will be hosted by the Dalum Community Hall Association on Friday, November 22. Doors open at 5:00 p.m., supper at 6:00 p.m. Everyone welcome, new neighbors are encouraged to attend. For more information call 403-823-2036.
ANNUAL BIG VALLEY
CHRISTMAS CRAFT
SHOW & SALE
SATURDAY
NOVEMBER 16
10 a.m. to 3 p.m.
Big Valley Community Hall
30+ vendors
Something for everyone!
Country Lunch Kitchen
Admission by Food Bank Donation.
SERVICES
HOUSE CLEANING
Call Judith
403-978-2330
FOR SALE
FIREWOOD
WOODCHUCKERS... Pine and Birch Firewood for sale. Delivery available. 403-318-5314.
RENTAL PROPERTY
HOUSE FOR RENT
Century 21 manages over 100 rental properties. 1, 2, and 3 bedroom homes and suites for rent. Check out www.rentdrumheller.ca for a list of current properties for rent & apply online at www.rentd.ca on your phone or home computer. 403-823-2121 M-F.
APARTMENTS FOR RENT
FOR RENT... 1 bedroom apartment, 250 - 1st Street West, Drumheller. $725 per month. Adult building, no smoking or pets. Phone 403-823-1875.
FOR RENT... 2 bedroom apartments, Twin Hills Manor. Available immediately. Heat and water included. No smoking, no pets. 403-681-7025.
Hunts Place
Apartments
(Corner of Hunts Dr. & 2nd St. East)
• Quiet, adult oriented
• Security door & intercom
• Garden patios or large balconies
• Laundry facilities
• Parking with plug in
• Fridge, stove, window coverings,
hot water & heat
• WiFi hotspot
• No smoking
www.wix.com/writem5/hunts-place
Phone 403-443-1471
FOR RENT... Juniper Manor. 1 and 2 bedroom suites available.
Includes free heat, free water, parking, air conditioning, coin laundry.
No children. Phone 403-856-4401.
FOR RENT... Quadra Manor. 1 and 2 bedroom suites available.
Includes free heat, free water, parking, air conditioning, coin laundry.
No children. Phone 403-856-4401.
REAL ESTATE FOR SALE
HOUSE FOR SALE
HOUSES FOR SALE - Can't find it here or on MLS? Check out www.powerrealty.ca.
HOUSE FOR SALE... Nice house in Bankview. 2 bedrooms, 1 bath up; 3 rooms w/1 bath with walk-in tub down. Double garage. Comes with 2 washers, 1 dryer, fridge, stove, microwave. $275,000.00. Phone 403-823-7033 or cell 403-823-0872.
FARMER'S MARKET
FARMLAND/PASTURE WANTED
WANTED... Cultivated farmland in the Drumheller area for cash rent or sale. 403-321-0214.
WANTED... Farmland to rent in Drumheller, Dalum, Verdant Valley or Delia area. Phone 403-823-9222; 403-334-3644.
BIRTH ANNOUNCEMENT
GIECK - Born in Calgary, AB to Travis and Brenda Gieck, Thursday, June 13, 2019 a baby Boy! Warren John Gieck weighing 6 lbs. 15 oz. Big sisters are Hannah and Emily Gieck.
ANNOUNCEMENTS
AL-ANON, Wednesday evenings, 6:30 pm, Telus Bldg, 4th Floor. Call Lynne (403) 822-0008 or Carol (403) 772-2373.
Saturday Sunrise Meeting, Alcoholics Anonymous, 9 am, Knox United Church. Contact Helen 403-823-5593.
THE HAPPY DESTINY Alcoholics Anonymous Group meets every Monday at 7 p.m. in the Badlands Room at the Drumheller Health Complex. "Open Meeting".