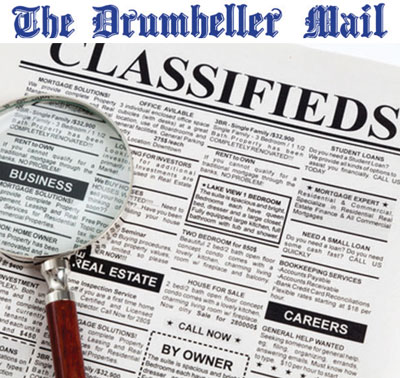 COMING EVENTS
FALL LUNCHEON... Knox United Church, Wednesday, October 23, 11:30 a.m. - 1:00 p.m. Soup, open-faced buns, pie and beverages - $10.00. Everyone welcome.

BIG VALLEY UNITED CHURCH TURKEY SUPPER... Community Hall, Sunday, October 20, 2019. 4:30 - 7:00 p.m. Adults - $15.00, Children 6-12 - $8.00, Under 6 - free.
AGM... Annual General Meeting of Peggie's Feline Rescue Society will be held at Heartwood Inn & Spa, 320 North Railway Avenue East, Drumheller, Saturday, October 26, 2019. Meeting begins at 6:30 p.m. Everyone welcome. 403-822-3191.
SERVICES
MUSIC LESSONS... Piano and Voice lessons. Experienced, qualified teacher. In studio and online available. Call or text 403-620-6058.
FOR SALE
FIREWOOD
WOODCHUCKERS... Pine and Birch Firewood for sale. Delivery available. 403-318-5314.
AUTO
CAR FOR SALE... 2007 Ford Focus SE. 79,000 km's Mint condition. Looks and runs like new. $3,900. 403-650-7006.
MISCELLANEOUS
FOR SALE... Bow Flex Tread Climber; Water tank - 270 gal.; fridge - Whirlpool; Misc. golf clubs; back seat for 2002 Dodge; Canoe - seats/life jackets; Samsung sound surround. Call 403-820-2148.
FOR SALE... Guns & ammo for sale. 270; 22 - 250 ; SKS; Win-lever; 22-lever; 22 single 6 revolver. Text 403-823-6828.
Need Some Winter Tires??
4 - 265 70R 17, Michelin Latitude X ICE (lots of tread) on nearly new custom rims. $1250.00 firm. Call 403-823-2580 days to view.
RENTAL PROPERTY
HOUSE FOR RENT
Century 21 manages over 100 rental properties. 1, 2, and 3 bedroom homes and suites for rent. Check out www.rentdrumheller.ca for a list of current properties for rent & apply online at www.rentd.ca on your phone or home computer. 403-823-2121 M-F.
APARTMENTS FOR RENT
FOR RENT... 809 - 6 Avenue East. 4 Plex unit, 2 bedroom and den with 1 1/2 baths. 1000 sq. ft. includes fridge, stove, washer and dryer. The unit has a private entrance. Available November 2019. $700.00 per mont plus utilities. Non smoking. References required. Call 403-823-3760 or 403-823-1875. Email rpage@magtech.ca
FOR RENT... 1 bedroom apartment in a 12 suite building downtown. $725.00 per month including heat and water. Damage deposit $500.00. Adult building, no pets, no smokers. Available November 10. Location lower floor. For details or to view, call 403-823-3760 or 403-823-1875.
APARTMENTS FOR RENT
FOR RENT... Juniper Manor 1 and 2 bedroom suites available. Includes free heat, free water, parking, air conditioning, coin laundry. No children. Phone 1-403-856-4401.
FOR RENT... Quadra Manor 1 and 2 bedroom suites available. Includes free heat, free water, parking, air conditioning, coin laundry. No children. Phone 1-403-856-4401.
FOR RENT... Sage Manor 1, 2 and 3 executive suite bedroom apartments located at #333 - 2nd Street East. Mature adults only. No smoking. Available immediately. View at sagemanor.com Call 403-823-0964.
Hunts Place
Apartments
(Corner of Hunts Dr. & 2nd St. East)
• Quiet, adult oriented
• Security door & intercom
• Garden patios or large balconies
• Laundry facilities
• Parking with plug in
• Fridge, stove, window coverings,
hot water & heat
• WiFi hotspot
• No smoking
www.wix.com/writem5/hunts-place
Phone 403-443-1471
ROOM FOR RENT
FOR RENT... Greentree area, $320.00/month, bedroom in quiet, clean, bi-level house. Non-smoking. Utilities & internet included. adso@shaw.ca
REAL ESTATE FOR SALE
HOUSE FOR SALE
HOUSES FOR SALE - Can't find it here or on MLS? Check out www.powerrealty.ca.
FARMER'S MARKET
FARMLAND/ PASTURE WANTED
WANTED... Cultivated farmland in the Drumheller area for cash rent or sale. 403-321-0214.
WANTED... Farmland to rent in Drumheller, Dalum, Verdant Valley or Delia area. Phone 403-823-9222; 403-334-3644.
WORK WANTED
PAINTER
Fall has arrived... Will paint your house or building. Interior or exterior. 31 years experience. 10% off quotes. Very low rates. Phone Ken at 403-821-0823 or 403-823-8140.
CARD OF THANKS
THANK YOU... The John Olsen Family want to thank everyone for their condolences, cards, phone calls, hugs, visits, memories shared and for donations made in his memory.
ANNOUNCEMENTS
AL-ANON, Wednesday evenings, 6:30 pm, Telus Bldg, 4th Floor. Call Lynne (403) 822-0008 or Carol (403) 772-2373.
Saturday Sunrise Meeting, Alcoholics Anonymous, 9 am, Knox United Church. Contact Helen 403-823-5593.
THE HAPPY DESTINY Alcoholics Anonymous Group meets every Monday at 7 p.m. in the Badlands Room at the Drumheller Health Complex. "Open Meeting".