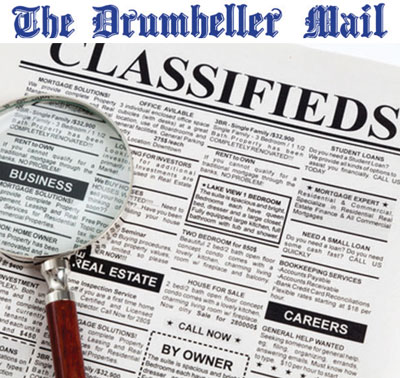 GARAGE SALES
ROSEBUD
ROSEBUD COMMUNITY GARAGE SALE... MULTI-FAMILY/FARM. Saturday, August 17. 10 a.m. to 5 p.m. Rosebud Memorial Hall. Concession on site. Cash only.
DRUMHELLER
GARAGE SALE... 415 12 Street East, Drumheller. Saturday,
August 17, 10 a.m. to 4 p.m.
Microwaves, office chair, clothes. Please No Parking in Back.
COMING EVENTS
BABY SHOWER
Welcome Lincoln Lund Tolman
We will welcome the newest member of the Dalum Community at the home of Lynn Peterson on Wednesday, August 21 at 7:00 pm. Come meet Shayla and Drew's
precious baby boy;
Lincoln Lund Tolman
IN MEMORIAM
In loving memory of
Shirley Peters
March 14, 1937 - August 19, 2016
May the winds of love blow gentle
and whisper so you can hear
that we'll always love and miss you
and wish that you were here.
Love you forever and a day,
Doug - Cersten, Brayden
Bruce, Shirley - Jess - Amber
Jamie and all their families
Your best friend and
loving husband Frank
IN MEMORIAM
In loving memory of
Clarence A.
ENGEN
April 25, 1938 - August 23, 2015
You are gone
But not forgotten.
You will forever be in our hearts and thoughts.
Lovingly remembered,
Eileen & Family
IN MEMORIAM
In loving memory of
Sara Lynn
Fullerton
1994-2013
And no matter what
anybody says about time
healing all wounds, the truth is, there are certain sorrows
that never fade away
until the heart stops beating
and the last breath is taken.
Love always,
Mom, Dad
Spencer and Shea
FOR SALE
MISCELLANEOUS
GOLF CLUBS FOR SALE
All RH
NEW...
BMO Lobo Putter $35
Cleveland 588 RTX
56 degree $100 10B
Cleveland 588 RTX
58 degree $100 12B
Cleveland 588 RTX
60 degree $100 14B
or ALL 3 FOR $270
USED...
Titleist Vokey
52 degree Wedge $35
Ping G5 Utility w/cover
19 degree $35
Callaway FT9 Driver Fujikura Stiff Shaft w/cover 9 degree $40
Taylormade 5 Wood
Stiff Shaft $35
Call 403-823-2580 days
31nc34
RECREATION TRAILER FOR SALE
2008 FLEETWOOD EVOLUTION
9 ft. long, opens to 20 ft. Sleeps 4-6 people, shower outside, toilet inside awning - can cook outside (stove) converter new 120 - 12 volts. Sleeping bags, bedding,
pillows, microwave, fridge, radio and tape player, 2 new propane tanks, new battery, water pump, 2 mirrors for
vehicle.
Call Ed at 403-823-2083.
AUTO
TRUCK FOR SALE... 2012 Chev Colorado, Only 37,000 kms. 4 cyl. auto, 2 wheel drive. Very good condition. Windshield, body and tires perfect. Box cover, box liner. Grey colour, MP3 - CD player, bluetooth, power steering and brakes, air conditioning, wind-up windows (rare), extra cab, factory striping, new windshield wipers and mud flaps.
$12,300.00 firm. Call 403-823-2580 days.
HOUSE FOR RENT
Century 21 manages over 100 rental properties. 1, 2, and 3 bedroom homes and suites for rent. Check out www.rentdrumheller.ca for a list of current properties for rent & apply online at www.rentd.ca on your phone or home computer. 403-823-2121 M-F.
HOUSE FOR RENT... 1 bedroom home, fenced yard, close to downtown. Pets considered. Available immediately. Rent $530.00/month. SD $530.00. 403-823-6680.
HOUSE FOR RENT... Great house for rent near downtown/river - 2 bedroom + finished rumpus room downstairs. Large yard. Appliances. $890/month. September 1. Please call to view. 403-660-7289. 33p
HOUSE FOR RENT... 2 bedroom house with attached garage, fridge, stove, washer, dryer. Available now for $700/month plus utilities. No pets or smokers please. Call 403-823-5457 after 4 p.m.
ROOM FOR RENT
ROOM FOR RENT... Greentree area, $420/month. Bedroom in quiet, clean bi-level house. Non-smoking. Utilities and internet included. adso@shaw.ca
APARTMENTS FOR RENT
Hunts Place Apartments (Corner of Hunts Dr. & 2nd St. East). Quiet, adult oriented, security door & intercom, garden patios or large balconies, laundry facilities, parking with plug in, fridge, stove, window coverings, hot water & heat, WiFi hotspot, no smoking, no pets, www.wix.com/writem5/hunts-place. Phone (403) 820-1665 or (403) 821-0266.
FOR RENT... Sage Manor. 1, 2 and 3 executive suite bedroom appartments located at #333 - 2nd Street East. Mature adults only. No smoking. Available immediately. View at sagemanor.com Call 403-823-0964.
FOR RENT... Twin Hills Manor. 421- 11 Avenue S.E. 1 bedroom - $700/month; 2 bedroom - $800/month. Plus electricity. Available immediately. No smoking. No pets. 403-681-7025.
FOR RENT... Quadra Manor. 1 and 2 bedroom suite available. Includes free heat, free water, parking, air conditioning, coin laundry. No children. Phone 1-403-856-4401.
FOR RENT... Juniper Manor. 1 and 2 bedroom suite available. Includes free heat, free water, parking, air conditioning, coin laundry. No children. Phone 1-403-856-4401.
HOUSE FOR SALE
HOUSES FOR SALE - Can't find it here or on MLS? Check out www.powerrealty.ca.
FARMLAND/PASTURE WANTED
WANTED... Cultivated farmland in the Drumheller area for cash rent or sale. 403-321-0214.
EMPLOYMENT
WORK WANTED
PAINTER
Summer has sprung. Will paint your house or building. Interior or exterior. 31 years experience. 10% off quotes. Very low rates. Phone Ken at 403-821-0823 or 403-823-8140.
ANNOUNCEMENTS
AL-ANON, Wednesday evenings, 6:30 pm, Telus Bldg, 4th Floor. Call Lynne (403) 822-0008 or Carol (403) 772-2373.
Saturday Sunrise Meeting, Alcoholics Anonymous, 9 am, Knox United Church. Contact Helen 403-823-5593.
THE HAPPY DESTINY Alcoholics Anonymous Group meets every Monday at 7 p.m. in the Badlands Room at the Drumheller Health Complex. "Open Meeting".