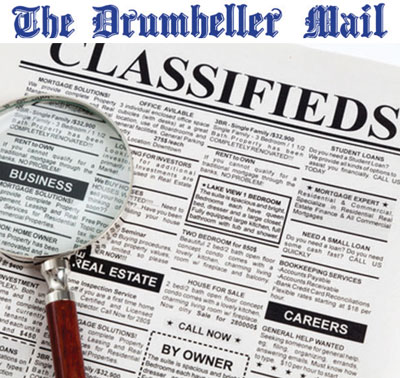 IN MEMORIAM
In loving memory of
Donna Mary
DURBANO
1949 - 2014
We often think of days gone by
When we were all together,
A shadow o'er our lives has cast,
Our loved one gone forever.
Lovingly remembered,
Albert & Family
FOR SALE
MISCELLANEOUS
GOLF CLUBS FOR SALE
All RH
NEW...
BMO Lobo Putter $35
Cleveland 588 RTX
56 degree $100 10B
Cleveland 588 RTX
58 degree $100 12B
Cleveland 588 RTX
60 degree $100 14B
or ALL 3 FOR $270
USED...
Titleist Vokey
52 degree Wedge $35
Ping G5 Utility w/cover
19 degree $35
Callaway FT9 Driver Fujikura Stiff Shaft w/cover 9 degree $40
Taylormade 5 Wood
Stiff Shaft $35
Scotty Cameron Red X Putter
w/cover $60
Call 403-823-2580 days
RECREATION TRAILER
FOR SALE
2008 FLEETWOOD
EVOLUTION
9 ft. long, opens to 20 ft. Sleeps 4-6 people, shower outside, toilet inside awning - can cook outside (stove) converter new 120 - 12 volts. Sleeping bags, bedding,
pillows, microwave, fridge, radio and tape player, 2 new propane tanks, new battery, water pump, 2 mirrors for
vehicle.
Call Ed at 403-823-2083.
AUTO
TRUCK FOR SALE... 2012 Chev Colorado, Only 37,000 kms. 4 cyl. auto, 2 wheel drive. Very good condition. Windshield, body and tires perfect. Box cover, box liner. Grey colour, MP3 - CD player, bluetooth, power steering and brakes, air conditioning, wind-up windows (rare), extra cab, factory striping, new windshield wipers and mud flaps.
$12,300.00 firm. Call 403-823-2580 days.
RENTAL PROPERTY
HOUSE FOR RENT
Century 21 manages over 100 rental properties. 1, 2, and 3 bedroom homes and suites for rent. Check out www.rentdrumheller.ca for a list of current properties for rent & apply online at www.rentd.ca on your phone or home computer. 403-823-2121 M-F.
ROOM FOR RENT
ROOM FOR RENT... Greentree area, $420/month. Bedroom in quiet, clean bi-level house. Non-smoking. Utilities and internet included. adso@shaw.ca
APARTMENTS FOR RENT
FOR RENT... Sage Manor. 1, 2 and 3 executive suite bedroom appartments located at #333 - 2nd Street East. Mature adults only. No smoking. Available immediately. View at sagemanor.com Call 403-823-0964.
Hunts Place Apartments (Corner of Hunts Dr. & 2nd St. East). Quiet, adult oriented, security door & intercom, garden patios or large balconies, laundry facilities, parking with plug in, fridge, stove, window coverings, hot water & heat, WiFi hotspot, no smoking, no pets, www.wix.com/writem5/hunts-place. Phone (403) 820-1665 or (403) 821-0266.
REAL ESTATE FOR SALE
HOUSE FOR SALE
HOUSES FOR SALE - Can't find it here or on MLS? Check out www.powerrealty.ca.
FARMLAND/PASTURE WANTED
WANTED... Cultivated farmland in the Drumheller area for cash rent or sale. 403-321-0214.
ANNOUNCEMENTS
AL-ANON, Wednesday evenings, 6:30 pm, Telus Bldg, 4th Floor. Call Lynne (403) 822-0008 or Carol (403) 772-2373.
Saturday Sunrise Meeting, Alcoholics Anonymous, 9 am, Knox United Church. Contact Helen 403-823-5593.
THE HAPPY DESTINY Alcoholics Anonymous Group meets every Monday at 7 p.m. in the Badlands Room at the Drumheller Health Complex. "Open Meeting".