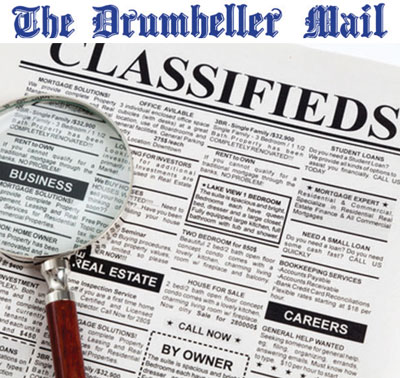 GARAGE SALES
MORRIN
GARAGE SALE... July 19 & 20. Friday - 4 to 8 p.m. Saturday - 9 a.m. to 5 p.m. Downsizing. Tools, upright freezer, snowthrower, household and much more. 213 - 2nd Avenue South, Morrin, AB.
ROSEDALE
YARD SALE... 21 - 1 Ave North (back alley), Rosedale. Friday, July 19 - 3 to 7 p.m.; Saturday, July 20 - 9 a.m. to 3 p.m.; Sunday, July 21 - 9 a.m. to 3 p.m. Lots of goodies. No early birds.
MISCELLANEOUS
TICKETS
TICKETS FOR SALE... Jann Arden Concert Tickets. August 10 in Drumheller. 4 of the best seats, Row 1, almost dead centre. $90 each. 587-888-0594.
STORAGE
HIGH COUNTRY STORAGE... 1 Ave East, Delia, R.V. space,
C-cans, for rent advertising panels. Call me. Ask for Edie 1 (403) 334-1588.
RECREATION VEHICLE FOR SALE:
TOPAZ 26'
1999 HOLIDAY TRAILER
Sleeps 6, with separate bedroom, has bathroom with shower, 18' awning, air conditioning, forced air furnace, propane stove with oven, large fridge with freezer and microwave. Has hard wall exterior. Nice, clean condition as it's hardly been used. $6,500.00 Call 403-823-3469.
RENTAL PROPERTY
HOUSE FOR RENT
Century 21 manages over 100 rental properties. 1, 2, and 3 bedroom homes and suites for rent. Check out www.rentdrumheller.ca for a list of current properties for rent & apply online at www.rentd.ca on your phone or home computer. 403-823-2121 M-F.
HOUSE FOR RENT... 1 bedroom home, fenced yard, close to downtown. Pets considered. Available immediately. Rent $530.00/month. SD $530.00. 403-823-6680. 28p29
HOUSE FOR RENT... 3 bedroom house. Greentree area. $1200.00/month plus utilities. Includes appliances washer/dryer. No pets. 403-820-2569. Available immediately.
ROOM FOR RENT
FOR RENT... Greentree area. $420/month. Bedroom in quiet, clean bi-level house. Non-smoking. Utilities and internet included. adso@shaw.ca
APARTMENTS FOR RENT
FOR RENT... Quadra Manor. 1 and 2 bedroom suites available. Includes free heat, free water, parking, air conditioning, coin laundry. No children. Phone 1-403-856-4401.
FOR RENT... Juniper Manor. 1 and 2 bedroom suites available. Includes free heat, free water, parking, air conditioning, coin laundry. No children. Phone 1-403-856-4401.
FOR RENT... Sage Manor. 1, 2 and 3 executive suite bedroom appartments located at #333 - 2nd Street East. Mature adults only. No smoking. Available immediately. Call 403-823-0964.
Hunts Place Apartments (Corner of Hunts Dr. & 2nd St. East). Quiet, adult oriented, security door & intercom, garden patios or large balconies, laundry facilities, parking with plug in, fridge, stove, window coverings, hot water & heat, WiFi hotspot, no smoking, no pets, www.wix.com/writem5/hunts-place. Phone (403) 820-1665 or (403) 821-0266.
HOUSE FOR SALE
HOUSES FOR SALE - Can't find it here or on MLS? Check out www.powerrealty.ca.
FARMERS MARKET
FARMLAND/PASTURE WANTED
WANTED... Cultivated farmland in the Drumheller area for cash rent or sale. 403-321-0214.
PRODUCE
PRODUCE FOR SALE... Verdant Valley Colony will be selling produce every Friday until the end of September from 10:00 a.m. to 5:30 p.m. at the corner of Mac's Convenience Store in Drumheller.
EMPLOYMENT
HELP WANTED
HELP WANTED... Person with Masters or University degree in Agriculture. Work is near Drumheller. Room and Board plus monthly salary, production bonuses. Send resume to byronb777@gmail.com
ANNOUNCEMENTS
AL-ANON, Wednesday evenings, 6:30 pm, Telus Bldg, 4th Floor. Call Lynne (403) 822-0008 or Carol (403) 772-2373.
Saturday Sunrise Meeting, Alcoholics Anonymous, 9 am, Knox United Church. Contact Helen 403-823-5593.
THE HAPPY DESTINY Alcoholics Anonymous Group meets every Monday at 7 p.m. in the Badlands Room at the Drumheller Health Complex. "Open Meeting".
COMING EVENTS
BIRTHDAY CELEBRATION... 90th Birthday Celebration for Mary Daly Francis on Saturday, July 27. 5:00 p.m., Munson Community Hall.
WEDDING ANNIVERSARY... Brenda and David Daly 40th Wedding Anniversary. Saturday, July 27, 5:00 p.m. for supper, open jam to follow and Sunday, July 28 - 9 a.m. to 1 p.m. at Munson Community Hall. Everyone welcome.