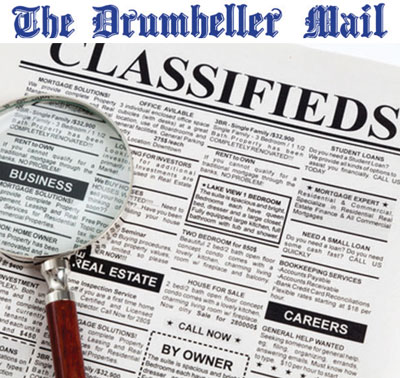 SERVICES
STORAGE
HIGH COUNTRY STORAGE... 1 Ave East, Delia, R.V. space, C-cans, for rent advertising panels. Call me. Ask for Edie 1 (403) 334-1588.
RENTAL PROPERTY
HOUSE FOR RENT
Century 21 manages over 100 rental properties. 1, 2, and 3 bedroom homes and suites for rent. Check out www.rentdrumheller.ca for a list of current properties for rent & apply online at www.rentd.ca on your phone or home computer. 403-823-2121 M-F.
HOUSE FOR RENT... Available July 1. 1 bedroom, F/S, W/D, storage shed. 1 year lease. $675/month + utilities. Call Kent 403-820-3146.
APARTMENTS FOR RENT
FOR RENT... Juniper Manor 1 and 2 bedroom suites available. Includes free heat, free water, parking, air conditioning, coin laundry. No children. Phone 1-403-856-4401.
FOR RENT... Quadra Manor 1 and 2 bedroom suites available. Includes free heat, free water, parking, air conditioning, coin laundry. No children. Phone 1-403-856-4401.
Hunts Place Apartments (Corner of Hunts Dr. & 2nd St. East). Quiet, adult oriented, security door & intercom, garden patios or large balconies, laundry facilities, parking with plug in, fridge, stove, window coverings, hot water & heat, WiFi hotspot, no smoking, no pets, www.wix.com/writem5/hunts-place. Phone (403) 820-1665 or (403) 821-0266.
REAL ESTATE FOR SALE
HOUSE FOR SALE
HOUSES FOR SALE - Can't find it here or on MLS? Check out www.powerrealty.ca.
FARMER'S MARKET
FARMLAND/PASTURE WANTED
WANTED... Cultivated farmland in the Drumheller area for cash rent or sale. 403-321-0214.
BULLS FOR SALE
FOR SALE... Yearling Red Angus Bulls. Moderate Birthweights. Very quiet. Performance data available. More info contact Anthony Andrew (403) 820-4776 Carbon. website:
www.anchorranchredangus.com
PRODUCE
PRODUCE FOR SALE... Verdant Valley Colony will be selling produce every Friday starting Friday, June 14 until the end of September from 10:00 a.m. to 5:30 p.m. at the corner of Mac's Convenience Store in Drumheller.
EMPLOYMENT
SENIOR SERVICES
HELPING HANDS (Est 1999)
HELPING SENIORS in their homes: cooking, cleaning, transportation.
HELPING SENIORS in facility care: meal assist, baths, visits, outings.
TOWN & RURAL
COMPETITIVE HOURLY RATE;
CARING BONDABLE HELPERS
Call (403) 364-2476
Email hq.helpinghands@gmail.com
www.helpinghandshomesupport.com
ANNOUNCEMENTS
AL-ANON, Wednesday evenings, 6:30 pm, Telus Bldg, 4th Floor. Call Lynne (403) 822-0008 or Carol (403) 772-2373.
Saturday Sunrise Meeting, Alcoholics Anonymous, 9 am, Knox United Church. Contact Helen 403-823-5593.
THE HAPPY DESTINY Alcoholics Anonymous Group meets every Monday at 7 p.m. in the Badlands Room at the Drumheller Health Complex. "Open Meeting".
CARD OF THANKS
THANK YOU... Neil Hampton's family wish to express our sincere gratitude for all the visits and other acts of kindness, and to the hospital nursing staff. Special thanks to Dr. Mashood, who made Neil's final journey as comfortable and dignified as possible.
COMING EVENTS
AFTER 5 ... After 5, Monday June 10; 6:30-8:30 pm; Old Central School; $15 includes buffet & program. Featuring Dani Dooley, our favourite lily gardener. Inspiration speaker Karen Gleddie. Reservations essential: 403-823-4398. All ladies welcome.