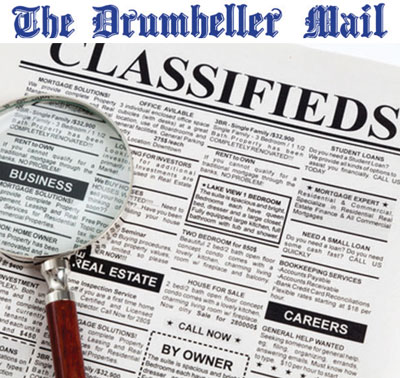 SERVICES
STORAGE
HIGH COUNTRY STORAGE... 1 Ave East, Delia, R.V. space, C-cans, for rent advertising panels. Call me. Ask for Eddie 1 (403) 334-1588.
FOR SALE
PLANTS FOR SALE
FOR SALE... Tomato Hobbiest has Oxheart, Beefsteak, Tiny Tims and Sweet 100's. $1.75 each 403-821-0573.
RENTAL PROPERTY
HOUSE FOR RENT
Century 21 manages over 100 rental properties. 1, 2, and 3 bedroom homes and suites for rent. Check out www.rentdrumheller.ca for a list of current properties for rent & apply online at www.rentd.ca on your phone or home computer. 403-823-2121 M-F.
HOUSE FOR RENT... Available June 1. 2 bedroom, large, fenced lot. F/S, W/D, A/C. No pets. 403-820-3146.
HOUSES FOR RENT... 2 and 3 bedroom houses and manufactured homes and 1 & 2 bedroom apartments. 403-823-2406, Monday to Friday, 9 a.m. to 5 p.m.
ROOM FOR RENT
ROOM FOR RENT... Greentree area, $420/month. Bedroom in clean, bi-level house, non-smoking, utilities and internet included. Contact adso@shaw.ca
APARTMENTS FOR RENT
FOR RENT... Juniper Manor 1 and 2 bedroom suites available. Includes free heat, free water, parking, air conditioning, coin laundry. No children. Phone 1-403-856-4401.
FOR RENT... Quadra Manor 1 and 2 bedroom suites available. Includes free heat, free water, parking, air conditioning, coin laundry. No children. Phone 1-403-856-4401.
Hunts Place Apartments (Corner of Hunts Dr. & 2nd St. East). Quiet, adult oriented, security door & intercom, garden patios or large balconies, laundry facilities, parking with plug in, fridge, stove, window coverings, hot water & heat, WiFi hotspot, no smoking, no pets, www.wix.com/writem5/hunts-place. Phone (403) 820-1665 or (403) 821-0266.
REAL ESTATE FOR SALE
MAINTENANCE FREE LIVING
FOR SALE... The Residences
of Riverside Estates is Drumheller's
only 55+ development!
Beautiful custom built homes
starting in the 300's. Maintenance
free living in Riverside,
one of Drumheller's most desired
area's. Only 6 lots remaining,
secure your lot and receive
free air conditioning and HOA
fees paid for one year!
Call Kelly Boyko or Joe
Castonguay with Home-Town
Realty 403-823-3311 about
this exciting offer!!!
HOUSE FOR SALE
HOUSES FOR SALE - Can't find it here or on MLS? Check out www.powerrealty.ca.
ACREAGE FOR SALE
ACREAGE FOR SALE... 18.36 acres - 14 km N.E. of Drumheller. Six acres of hay meadow rolls down into a coulee scattered with lush pasture, wild grass, flowers, berries, bushes. Deer and pheasant use the corridor. Water/power to property. Quiet, close to town and ten minutes to the golf course. $100,000 O.B.O. Call 867-335-3611. Email: doghart.anna@gmail.com
FARMER'SMARKET
FARMLAND/PASTURE WANTED
WANTED... Cultivated farmland in the Drumheller area for cash rent or sale. 403-321-0214.
BULLS FOR SALE
FOR SALE... Yearling Red Angus Bulls. Moderate Birthweights. Very quiet. Performance data available. More info contact Anthony Andrew (403) 820-4776 Carbon. website:
www.anchorranchredangus.com
EMPLOYMENT
SENIOR SERVICES
HELPING HANDS (Est 1999)
HELPING SENIORS in their homes: cooking, cleaning, transportation.
HELPING SENIORS in facility care: meal assist, baths, visits, outings.
TOWN & RURAL
COMPETITIVE HOURLY RATE;
CARING BONDABLE HELPERS
Call (403) 364-2476
Email hq.helpinghands@gmail.com
www.helpinghandshomesupport.com
ANNOUNCEMENTS
AL-ANON, Wednesday evenings, 6:30 pm, Telus Bldg, 4th Floor. Call Lynne (403) 822-0008 or Carol (403) 772-2373.
Saturday Sunrise Meeting, Alcoholics Anonymous, 9 am, Knox United Church. Contact Helen 403-823-5593.
THE HAPPY DESTINY Alcoholics Anonymous Group meets every Monday at 7 p.m. in the Badlands Room at the Drumheller Health Complex. "Open Meeting".
CARD OF THANKS
THANK YOU... We would like to sincerely thank everyone who helped at Mom's funeral luncheon. Craigmyle Historical Society for arranging and working at the lunch, Blue Sky Colony for all the trays of sandwiches provided, neighbours and friends for the donated food and to everyone who gave us flowers; and to those who attended her service. Also, we would like to thank Courtney Winter's for all their assistance, Michele Viste for playing the piano and Jean Lypka for her solo at the service.
We are thankful to live in this community where people are so willing to help one another.
John Rew and Joanne Allen