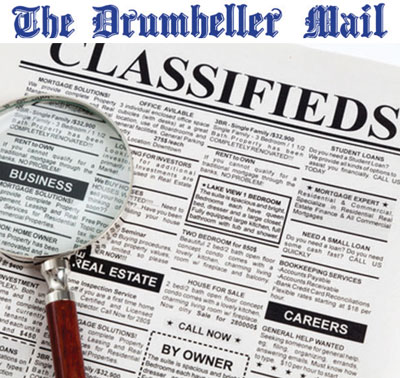 SERVICES
STORAGE
HIGH COUNTRY STORAGE... 1 Ave East, Delia, R.V. space, C-cans, for rent advertising panels. Call me. Ask for Eddie 1 (403) 334-1588.
FOR SALE
AUTO
TRUCK FOR SALE... 2012 Chev Colorado, Only 37,000 kms. 4 cyl. auto, 2 wheel drive. Very good condition. Windshield, body and tires perfect. Box cover, box liner. Grey colour, MP3 - CD player, bluetooth, power steering and brakes, air conditioning, wind-up windows (rare), extra cab, factory striping, new windshield, wipers and mud flaps.
$12,300.00 firm. Call 403-823-2580 days.
MISCELLANEOUS
FOR SALE... Laminate flooring. 12mm Golden Butternut with underlay. 44 boxes. Covers about 1000 sq. ft. $1700.00. 403-823-5472.
GOLF CLUBS FOR SALE
All RH
NEW...
BMO Lobo Putter $35
Cleveland 588 RTX
56 degree $100 10B
Cleveland 588 RTX
58 degree $100 12B
Cleveland 588 RTX
60 degree $100 14B
or ALL 3 FOR $270
USED...
Titleist Vokey
52 degree Wedge $35
Ping G5 Utility w/cover
19 degree $35
Callaway FT9 Driver Fujikura Stiff Shaft w/cover 9 degree $40
Taylormade 5 Wood
Stiff Shaft $35
Scotty Cameron Red X Putter
w/cover $60
Call 403-823-2580 days
RENTAL PROPERTY
HOUSE FOR RENT
HOUSE FOR RENT... Available June 1. 2 bedroom, Newcastle 1235 - 2 Avenue. F/S, W/D, AC, large fenced yard. 1 year lease. No pets. Small storage garage. $850.00/month + utilities. Kent 403-820-3146.
Century 21 manages over 100 rental properties. 1, 2, and 3 bedroom homes and suites for rent. Check out www.rentdrumheller.ca for a list of current properties for rent & apply online at www.rentd.ca on your phone or home computer. 403-823-2121 M-F.
HOUSE FOR RENT... 2 bedrooms, 1 bathroom, large lot in Munson. Home with large kitchen, 5 appliances, large living room and attached garage. No pets allowed. $900.00/month plus utilities. Call (403) 820-0240.
DUPLEX FOR RENT...3 bedroom, 1 bath, 1/2 duplex. $875.00/month plus utilities. No smoking, pets negotiable. D.D. $875.00. Phone 1-403-995-0586.
4-PLEX FOR RENT
FOR RENT... 4-Plex for rent in Morrin. 2 bedroom, 5 appliances, pet friendly. $750.00/month. Call Dave at 403-820-4100.
APARTMENTS FOR RENT
FOR RENT... Juniper Manor, 1 and 2 bedroom suites available. Includes free heat, free water, parking, air conditioning, coin laundry. No children. Phone 1-403-856-4401.
FOR RENT... Quadra Manor, 1 and 2 bedroom suites available. Includes free heat, free water, parking, air conditioning, coin laundry. No children. Phone 1-403-856-4401.
FOR RENT... 1 bedroom apartment for rent downtown Drumheller. $725.00/month includes heat and water. No pets or smoking. Adults only building. Available May 1, 2019. Contact 403-823-1875; 403-823-3760.
Hunts Place Apartments (Corner of Hunts Dr. & 2nd St. East). Quiet, adult oriented, security door & intercom, garden patios or large balconies, laundry facilities, parking with plug in, fridge, stove, window coverings, hot water & heat, WiFi hotspot, no smoking, no pets, www.wix.com/writem5/hunts-place. Phone (403) 820-1665 or (403) 821-0266.
SUITES FOR RENT
SUITES FOR RENT... Sage Manor, 1, 2 and 3 bedrooms, 333-2nd Street East, Drumheller. Mature adults only. No smoking. View at www.sagemanor.com 403-823-0964.
ROOM FOR RENT
Room for Rent... Greentree area. $420/month. Bedroom in quiet, clean, bi-level house. Non-smoking. Utilities and internet included. adso@shaw.ca
REAL ESTATE FOR SALE
HOUSE FOR SALE
HOUSES FOR SALE - Can't find it here or on MLS? Check out www.powerrealty.ca.
FARMER'S MARKET
FARMLAND/PASTURE WANTED
WANTED... Cultivated farmland in the Drumheller area for cash rent or sale. 403-321-0214.
ANNOUNCEMENTS
AL-ANON, Wednesday evenings, 6:30 pm, Telus Bldg, 4th Floor. Call Lynne (403) 822-0008 or Carol (403) 772-2373.
Saturday Sunrise Meeting, Alcoholics Anonymous, 9 am, Knox United Church. Contact Helen 403-823-5593.
THE HAPPY DESTINY Alcoholics Anonymous Group meets every Monday at 7 p.m. in the Badlands Room at the Drumheller Health Complex. "Open Meeting".
EMPLOYMENT
HELP WANTED
SHIPPING / RECEIVING CLERK...
Fireworks Factory Warehouse
Shipping/Receiving Clerk.
Summer Student position from
May 1, to August 31 - (Dates are
flexible). Must be 18 years old and enrolled in post-secondary school for Fall of 2019. Requirements
include: heavy lifting; well organized; good with paperwork.
Training includes: Safety & awareness course; forklift course; WHMIS; fire extinguisher course. Fireworks Factory located just south of Rockyford, Alberta. Please send resume to: admin@fireworksfactory.ca If you have any questions, please call (403) 533-3899.
SENIOR SERVICES
HELPING HANDS (Est 1999)
HELPING SENIORS in their homes: cooking, cleaning, transportation.
HELPING SENIORS in facility care: meal assist, baths, visits, outings.
TOWN & RURAL
COMPETITIVE HOURLY RATE;
CARING BONDABLE HELPERS
Call (403) 364-2476
Email hq.helpinghands@gmail.com
www.helpinghandshomesupport.com