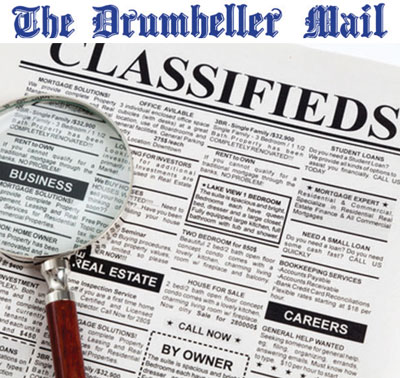 SERVICES
FIREWOOD
WOODCHUCKERS... Pine and Birch Firewood for sale. Delivery available. 403-318-5314.
STORAGE
HIGH COUNTRY STORAGE... 1 Ave East, Delia, R.V. space, C-cans, for rent advertising panels. Call me. Ask for Edie 1 (403) 334-1588.
RENTAL PROPERTY
HOUSE FOR RENT
FOR RENT... House for rent on acreage 40 km west of Drumheller on Highway 9. 5 appliances and security system. No pets, no smoking, no children. Retired couple or older adult preferred. References required and damage deposits. Phone 403-572-3571.
Century 21 manages over 100 rental properties. 1, 2, and 3 bedroom homes and suites for rent. Check out www.rentdrumheller.ca for a list of current properties for rent & apply online at www.rentd.ca on your phone or home computer. 403-823-2121 M-F.
FOR RENT... 2 bedroom house for rent in Drumheller. Shed, w/d, new lino, small pet o.k. $695.00/month + $295.00 utilities. 403-949-3545.
4-PLEX FOR RENT
FOR RENT... 809-6Ave. East. 4-Plex unit. 2 bedroom and den with 1 1/2 baths, 1000 sq. ft. includes fridge, stove, washer and dryer. The unit has a private entrance. Available February 2019. $700.00 per month plus utilities. Non-smoking. References required. Call 403-823-3760 or 403-823-1875. email: rpage@magtech.ca
FOR RENT... 4-Plex for rent in Morrin. 2 bedroom, 5 appliances, pet friendly. $750.00/month. Call Dave at 403-820-4100.
APARTMENTS FOR RENT
Hunts Place Apartments (Corner of Hunts Dr. & 2nd St. East). Quiet, adult oriented, security door & intercom, garden patios or large balconies, laundry facilities, parking with plug in, fridge, stove, window coverings, hot water & heat, WiFi hotspot, no smoking, www.wix.com/writem5/hunts-place. Phone (403) 443-1471.
FOR RENT... Juniper Manor, 1 and 2 bedroom suites available. Includes free heat, free water, parking, air conditioning, coin laundry. No children. Phone 1-403-856-4401.
FOR RENT... 2 bedroom, balcony apartment. Hardwood floors, laundry, off-street parking. On site management. 403-889-9952.
FOR RENT... Quadra Manor, 1 and 2 bedroom suites available. Includes free heat, free water, parking, air conditioning, coin laundry. No children. Phone 1-403-856-4401.
REAL ESTATE FOR SALE
HOUSE FOR SALE
HOUSES FOR SALE - Can't find it here or on MLS? Check out www.powerrealty.ca.
FARMER'S MARKET
FARMLAND/PASTURE FOR RENT
FARMLAND FOR RENT... Approximately 380 acres. Verdant Valley area. Contact 403-823-0016.
FARMLAND/PASTURE WANTED
WANTED... Cultivated farmland in the Drumheller area for cash rent or sale. 403-321-0214.
WANTED... Farmland to rent in Drumheller, Dalum, Verdant Valley or Delia area. Phone 403-823-9222.
Young family from Trochu area looking for pasture Spring 2019. Wanting to broaden our horizons pasturing
40-head. Willing to long term lease or rent. We are responsible renters and will upkeep fencing and property.
Water a must. No options too big or small. Please contact
Jodi 403-442-2601
or Brian 403-860-1365.
HELP WANTED
SENIOR SERVICES
HELPING HANDS (Est 1999)
HELPING SENIORS in their homes: cooking, cleaning, transportation.
HELPING SENIORS in facility care: meal assist, baths, visits, outings.
TOWN & RURAL
COMPETITIVE HOURLY RATE;
CARING BONDABLE HELPERS
Call (403) 364-2476
Email hq.helpinghands@gmail.com
www.helpinghandshomesupport.com
CARD OF THANKS
THANK YOU... The Homestead Museum Society wishes to express its sincere gratitude to Walmart Drumheller for their generous donation which will be used to construct new displays in the coming year.
THANK YOU... We would like to thank Dr. Maseka, Dr. Beach and the awesome nurses who helped bring baby Wyatt into the world and made it a wonderful experience. We are very grateful and appreciate all of the kind comments and gifts provided by the community businesses. Hope you all have a fantastic new year.
Sadie and Jesse
ANNOUNCEMENTS
AL-ANON, Wednesday evenings, 6:30 pm, Telus Bldg, 4th Floor. Call Lynne (403) 822-0008 or Carol (403) 772-2373.
Saturday Sunrise Meeting, Alcoholics Anonymous, 9 am, Knox United Church. Contact Helen 403-823-5593.
THE HAPPY DESTINY Alcoholics Anonymous Group meets every Monday at 7 p.m. in the Badlands Room at the Drumheller Health Complex. "Open Meeting".
COMING EVENTS
AGM East Coulee Community Association
Annual General Meeting will be held after the monthly meeting at 7:00 P.M. Tuesday, February 12, 2019 at East Coulee Community Hall Current and new members welcome.