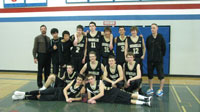 The DCHS senior boys basketball team was untouchable in league play and tonight they play in the league championship.
The Dynos will be going for their third consecutive title, at 6 p.m. on March 3 at home versus The Acme Redmen.
This follows on the heels of another tournament win.
Over the weekend, the DCHS senior boys travelled to Vegreville to capture their 5th tournament championship of the 2009/2010 season.