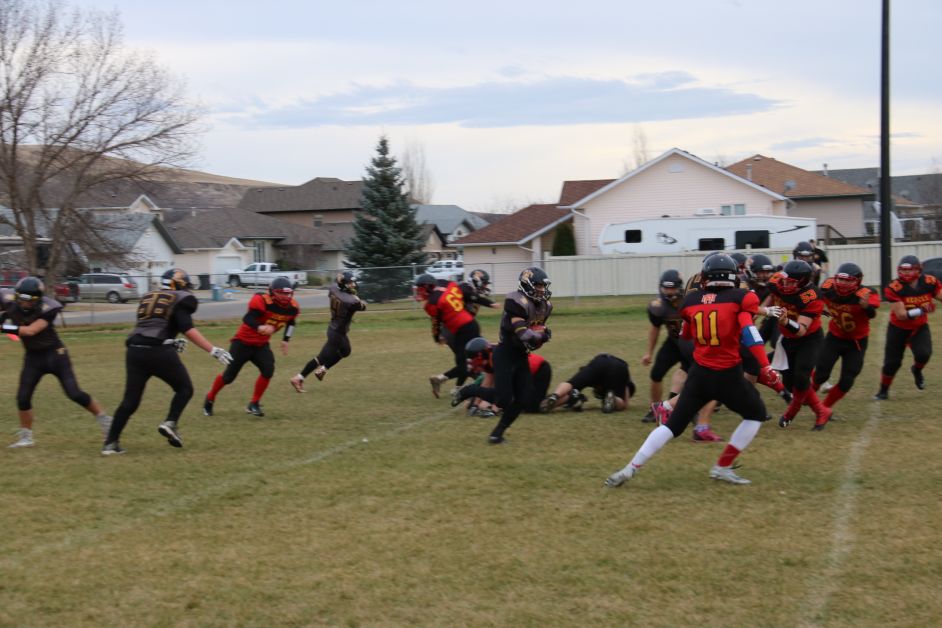 The season ended on tough note for the Senior Titans as the Taber Rebels knocked them out of the post season.
The Rebels bested the Titans on offence and defence. It took until the dying minutes of the third quarter when Derrick Carriere scored for Drumheller. It was too little too late as the Rebels went on to a 36-7 win.
For coach Fournier, his assessment of the game was simple, and he gives Taber credit.
"They didn't make mistakes," he said following the game. "They kept coming right at us, they weren't afraid to run it."
"They ran hard and blocked well, they played a simple straightforward game and they didn't make mistakes at it. "
While that ends the season for the senior Titans, for some players it ends their time in wearing black and gold. Coach Fournier is seeing four seniors on offence four on defence graduate.
"For the seniors, it was not the end we would have like for them, but for the returning guys we had, they are the one who put us in position to play in this game and have that opportunity. I hope the young players understand that and see the sacrifices they made and are prepared to do the same next year."
The outlook is bright for the returning young core next season. Fournier recognizes the progress the team has made.
"We improved in many areas and we will be lookout to fill some tough shoes next year, hopefully this young guys can learn."