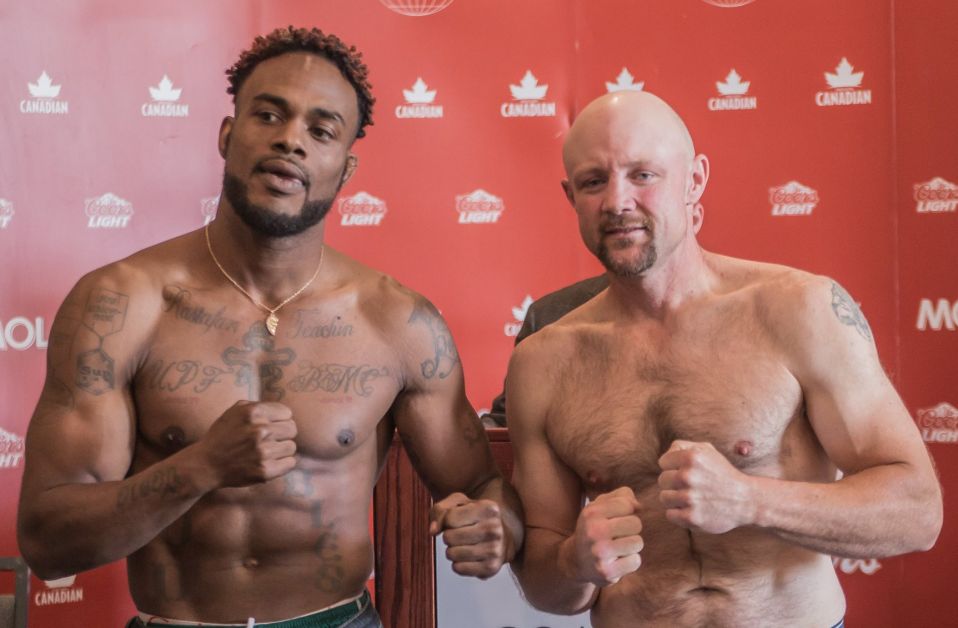 Brad Wilson, right, with his opponent Markhaile Wedderburn, who fought on June 24. Wedderburn won the fight after it was stopped in the second round.
submitted
A local boxer got the call up for a professional bout and while he didn't go as far as he hoped, it was a good way to end his career.
Local contractor Brad Wilson agreed to a fight versus Markhaile "Showtime" Wedderburn on Saturday, June 24, in Calgary. It has been a while since Wilson stepped in the ring, but he rolled the dice.
"It wasn't something I planned really, I just put the idea out there, and the sharks kind of grasped it," he said.
Wedderburn was a formidable opponent in the cruiser weight division, and Wilson said a lot of fighters were backing down from him.
"He was big and strong and kind of out of my league a little bit, but somebody had to do it," he chuckles.
He worked hard to get himself back into fighting shape and went toe to toe.
Wilson tells The Mail he did well through the first and second round. It looked like a fairly even match, however right at the end of the second, Wedderburn tagged Wilson right between the eyes. The fight was stopped.
He is going from swinging punches back to swinging his hammer. Wilson says that was his last fight, and ends a full career. While it has been a few years since he had stepped into the ring, he was happy with the effort.
"I had over 100 amateur fights in the 90's," he tells The Mail. Professionally going in, he had a 1-1-1 record.