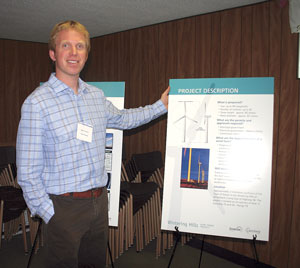 Plans are underway for a wind farm two kilometres southeast of Dalum, in the Wintering Hills of Wheatland County.
If approved it will generate enough electricity to run several small communities, and add a clean sustainable energy source to the energy grid, said Kolja Vainstein a renewable Energy Engineer, for Suncor Energy Services Inc.
The wind farm will generate 99 megawatts of energy using up to 66 wind turbines. A two megawatt turbine meets the energy needs of about 100 homes.
Suncor Energy Products Inc., and Acciona Wind Energy Canada Inc. the two companies involved in the program, held an open house meeting at the Dalum Community Hall on Thursday, June 26.
"We have tested the wind levels, and have received good support from the community, so things are looking positive, it will be exciting moving forward," said Vainstein.